The heaving crowds that gather on the hill, especially on a Sunday afternoon, have helped the Tigers turn a small profit at Leichhardt the past couple of years, but they also know any improvement to corporate hospitality facilities and seating will improve that margin again.
Leichhardt can only accommodate around 300 corporate guests while that number swells to around 3000 at Bankwest Stadium, the $360m venue in Parramatta where the Tigers will also play games until at least the end of 2022.
"Peter has had a few things on his plate, but he replied late last week with a letter that was very effusive about the need for us to treat the grounds as assets that are part of rugby league's future," Byrne told the Herald.
"He asked for me to put forward specifics about the upgrades to the ground. And I'm very confident that in putting forward detailed plans for the upgrade of Leichhardt, we'll have a champion in Peter V'Landys who will help us deliver state and federal government funding []for the project].
"We need a once-in-a-generation upgrade that will future-proof the ground as an NRL venue while also not losing the charm and character that makes it one of the most popular sporting grounds in Australia.
"We want to keep the heritage of the ground, but lift the standards to what is acceptable in the modern era, and what can be profitable for a range of different sporting organisations."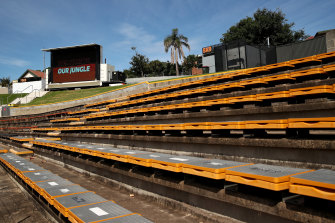 Byrne said the hill – his preferred place to stand during any Tigers game – would remain untouched, while the plan would be for more corporate suites in the main grandstand. The Keith Barnes Stand would also receive some much-needed love while there could even be a smaller grandstand erected at the northern end of the ground.
A hall of fame celebrating some of the club's greats has also been mooted, including statues, but the challenge for Byrne with this project has been settling on which players to immortalise.
In the letter sent to Byrne, and obtained by the Herald, V'Landys wrote: "As you know I'm a supporter of suburban grounds and believe they are an essential part of the fabric of rugby league. Despite the best efforts of local councils, unfortunately many of the great suburban grounds no longer meet community expectations after decades of under-investment by state and federal governments."
Byrne said he had not chased detailed plans in the past for Leichhardt Oval because of the NRL and state government had made it clear "they wouldn't put a single dollar into Leichhardt Oval".
"And we weren't going to waste ratepayers dollars by going and procuring plans for something they were outright refusing to fund," Byrne said.
Christian covers rugby league for The Sydney Morning Herald.