Treasurer Josh Frydenberg on Monday said the original estimates of the cost and extent of JobKeeper were made by his department in late March at the height of the pandemic in Australia when there were real fears the economy would fall in a "very, very deep hole".
"That hasn't arisen because we've had great success as a country in flattening the curve, and because of that health miracle there's been an economic benefit," he said.
Private forecasters have predicted budget deficits of up to $143 billion this year and $200 billion in 2020-21.
The same forecasters now believe the deficits will be lower, due in part to the reduction in expected JobKeeper spending and also because businesses are likely to be in a slightly stronger position than originally anticipated.
Westpac chief economist Bill Evans said a budget deficit of $80 billion this year and of $170 billion next year were likely. Government debt would reach $820 billion by the middle of next year.
He said the shortfall in JobKeeper was not unexpected, adding that it gave the government scope to help the economy later in the year to deal with unemployment which was likely to remain high.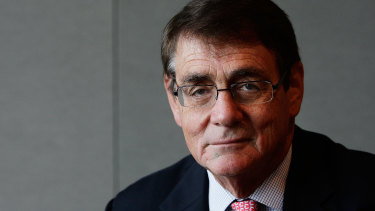 "The legacy issue from the current crisis will be a high unemployment rate that, previous recessions have demonstrated, can be extraordinarily difficult to reduce," he said.
AMP Capital chief economist Shane Oliver, who had tipped a $200 billion deficit next year, now believes it will be closer to $170 billion.
Loading
He said original official forecasts of a 10 per cent fall in GDP in the June quarter appeared too pessimistic while the jobless rate might peak at 8 per cent rather than the 10 per cent expected by Treasury.
"The [$60 billion] underspend looks likely because the economy is not as weak as expected and labour market data indicates that JobKeeper is doing its job in limiting the fall in employment," he said.
There are concerns about the second half of the year when JobKeeper and the coronavirus supplement to JobSeeker are due to end. Deferrals of mortgage and rent payments for residents and commercial tenants are also expected to end about September.
This has prompted concern a "second wave demand shock" could hit the economy, with consumers — already struggling because of low wages growth — unable or unwilling to spend despite the end of widespread virus-related shutdowns.
Loading
ANZ's head of Australian economics David Plank said the shortfall in JobKeeper confirmed other data that showed Australia appeared to have managed the virus pandemic better than had been expected.
He said the economy was likely to show a smaller drop in the June quarter than forecast, but that also meant a smaller rebound in the second half of the year.
"We are keeping in mind that 600,000 people lost employment in April and retail sales fell 18 per cent (in April) so the economic hit from the pandemic has still been very large," he said.
Shane is a senior economics correspondent for The Age and The Sydney Morning Herald.