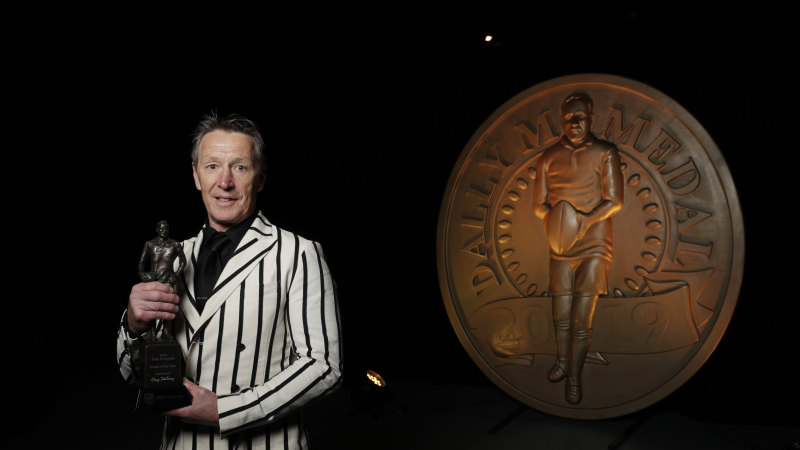 Sydney-based StatEdge has also run the NRL's team lists and team changes in a system that was overhauled three years in an effort to tighten up its integrity measures and lessen the risk of inside information around line-ups being exploited.
Sources have told the Herald, however, that StatEdge has now been stopped from having any involvement with team lists – the next batch of which will land on Tuesday as coaches name 21-man squads for round three before the competition resumes on Thursday.
The company, which also services the NSWRL, QRL and NRL clubs, continues to track interchanges for League Central as well as running the software for the management of junior competitions.
There are no NRL players, staff, coaches or officials under suspicion over the plunge, nor anyone from the Dally M awards venue, the Hordern Pavilion, or the broadcaster of the ceremony, Fox Sports. No arrests have been made but if police do lay charges they would be the first of their kind in NSW since new laws around inside information were introduced following the Ryan Tandy affair a decade ago.
Police removed computers and files after raiding the Paddington home of Stat Edge chief Josh Wilson as well as an office in Surry Hills and another residence in Waterloo last Thursday.
Wilson, who did not return a call from the Herald on Monday, founded StatEdge six years ago at the age of 23 and is also chief executive officer of Grow Super, a superannuation start-up aimed at milennials that he co-founded in 2017.
It is not suggested that it was Wilson who released the information about Bellamy's surprise win in the Dally M awards before betting markets had closed, or that he had any knowledge of the release of that information. More than a dozen bets were placed with multiple online agencies before the price for Bellamy to collect the prize on the night of October 2 last year was eventually wound in as short as $1.80.
Loading
As well as providing the digital voting platform for the awards, StatEdge has been a prominent player in the revamping of the way NRL team lists and changes to them are handled. Once, they were simply faxed into head office by the coach and even in recent years the 17 players named on a Tuesday might differ significantly from the side which ran out on the field the following weekend.
In a bid for greater transparency that was changed in 2017, with clubs from then on having to send in a 21-man squad on the Tuesday via StatEdge, reduce it to 19 players 24 hours before the kick-off of their game and then 17 players an hour before the match. Players from outside the original 21 can't turn out for their teams without special expemption from the NRL.