The commission also heard that 34,679 insurance claims worth $2.26 billion had been lodged, including 9,004 for domestic buildings worth $1.22 billion. It was told that normally insurers reject about 4 per cent of claims but so far only around .66 per cent of bushfire related claims had been rejected.
The commission was told that the increasing frequency of natural disasters due to climate change was compounding the psychological impact on survivors, particularly on children, and that this had been even further exacerbated by the coronavirus pandemic.
"[Disasters] are no longer perceived as rare events, they are often seen as climate change, and they're part of our new reality," Professor Lisa Gibbs, a child welfare expert with the University of Melbourne, said.
"We don't know how that is going to affect recovery because the seeds of hope… are [a] really important part of people's ability to deal with what has happened and [to] get back on track."
Some children who survived the Black Summer bushfires would have been traumatised by learning from the experience that their parents cannot always keep them safe, she said.
Tim Cashmore, principal of the school at Mallacoota, the village on Victoria's far east coast that was evacuated by sea after being hit by the fires on New Year's Eve, said students and their families were recovering well with community support, but that the pandemic was causing further dislocation.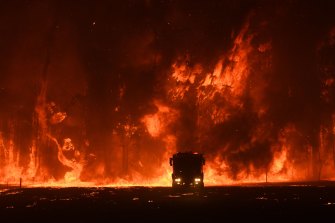 The town of only around 1000 permanent residents lost around 100 homes, he said.
Many of the small school's students lived outside the town and had only intermittent access to internet and mobile phones due to the damage to infrastructure caused by fires, making remote learning difficult "for children who had already been through the trauma of the fires," Mr Cashmore told the commission in a recorded interview.
Loading
Further, the town has been hit with a series of blackouts this year, also due to fire damage.
"It is a double-whammy for us. It is two unbelievable events that have impacted greatly on our small community," Mr Cashmore said.
He said that while children in other parts of the country might have enjoyed the novelty of not having to attend school as the pandemic hit, students in Mallacoota wanted to be at school as part of their recovery and to tell stories about their memories of the fires.
Nick O'Malley is National Environment and Climate Editor for The Sydney Morning Herald and The Age. He is also a senior writer and a former US correspondent.
Most Viewed in Environment
Loading