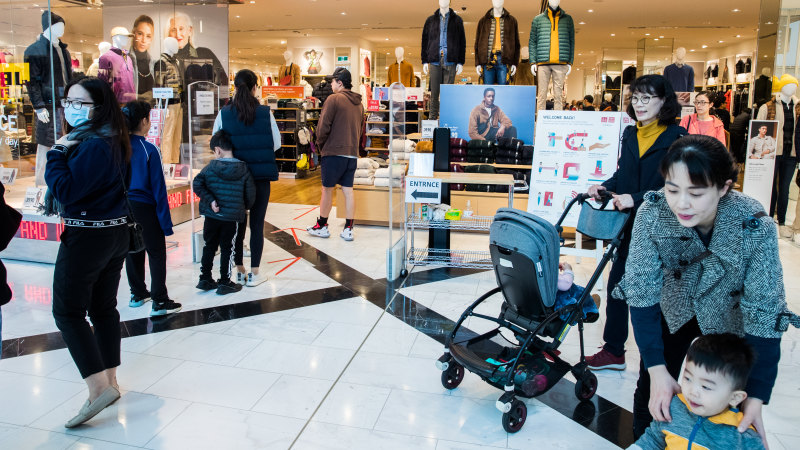 Loading
They said it appeared some consumers were tapping into their "household travel budget", which, because of state and international border bans, had remained unused over recent months.
"It seems that ANZ-observed retail spending is still stronger than what we might have expected before the full reopening of the economy," they said. "Non-essential retail growth is converging with elevated grocery spending, as fashion sales almost fully recover and home-related spending remains strong."
Even areas that had been heavily affected, such as car hire, car park and petrol station spending, were showing signs of improvement.
CBA's data, which also covers the week to May 22, showed further improvement although it noted total spending was still down on where it was in early January before the onset of coronavirus.
Senior economist Kristina Clifton said many areas that had in effect shut down were now open and enjoying customers.
"Clothing and personal care are continuing to recover. People are going back to work and school and are starting to head out to socialise more which is likely prompting a wardrobe refresh," she said.
"The winter weather has also hit. Personal care spending is likely to improve further as barbers, hair and beauty salons etc continue to open for business again."
The CBA figures do show the impact of the closure of international tourism on the broader Australian economy.
Spending through the bank's overall merchant facilities is down 7.5 per cent over the year compared to a 0.6 per cent increase in CBA instore card spending.
"The difference is partly explained by the drop in overseas resident spend, which has fallen significantly because of the plunge in overseas arrivals," Ms Clifton said.
"Business card spend is also likely to have contracted by more than household spend given the big increase in the number of people working from home and the decline in domestic business-related travel."