"All of a sudden, one of them just lunged at me and grabbed the money," Mr Stewart told Nine News.
"They're two young people, able-bodied – they should go out and get a job rather than stoop to those lows."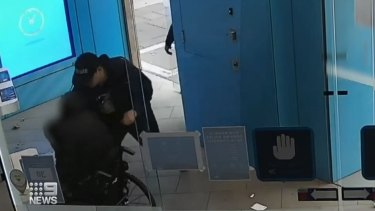 The two men left the area and were last seen running north along George Street.
Witnesses assisted the man – who was not injured – and police were contacted.
The release of CCTV footage on Tuesday sparked widespread outrage from the public, and Sydney City Police Area Command appealed for anyone with information to come forward.
Detective Inspector David El-Badawi didn't mince words when describing the pair.
"There's no other words to say but two low-life grubs. They saw Julian and they took the opportunity," he said.
Detective El-Badawi went on to the describe them as cowards, and said: "if you can identify them, don't protect them."
On Tuesday afternoon about 3.15pm, a 20-year-old man was arrested at Green Valley police station and was then taken to Liverpool police station, where he is assisting police with inquiries.