Mr Maguire did not take part when Parks Victoria were consulting with the community about its proposed Feral horse Strategic Action Plan in 2018 because this draft policy did not include a proposal for ground shooting, the court heard.
This plan allows for the removal of 1200 horses from the high country over three years but court cases, bushfires and the limited effectiveness of trapping programs has meant only 153 horses have been removed.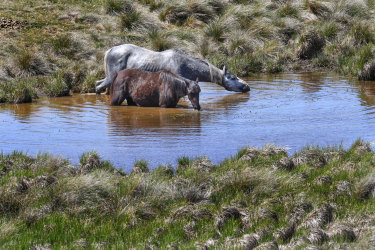 Justice Steven Moore pointed out that during the consultation many people voluntarily submitted their opinions about a potential cull, including the use of shooting. "It shows a polarised view of shooting horses but if there was more consultation now would it not just show the same thing?" Justice Moore asked.
The court also heard Mr Maguire's land abuts the Bogong High Plains, from where Parks Victoria wants to remove horses. In past years he had run a horse sightseeing business but the licence for this business has not been valid for some time.
Loading
"The horses graze on his land, he feeds them with hay, provides veterinary support if required, he has supported them for many years," Mr Aleksov said.
In early May the Federal Court gave Victoria the green light to trap and cull brumbies in the high country, where scientists say they are damaging the habitat of critically endangered species in the wake of the summer bushfires.
Parks Victoria's lawyer Jason Pizer, QC, agreed that his client had not engaged in formal consultation about ground shooting, specifically but he said the community had already had its say about the feral horse action plan during an extensive consultation process.
The assumptions underlying the action plan had changed since it was drawn up, the court heard. Large-scale, severe bushfires had burnt through much of the alpine area and there had been a dramatic increase in horse numbers, Mr Pizer said.
"Given the urgent need to implement the [new ground shooting technique] Parks Victoria didn't engage in a public consultation because it would take at least four months to prepare materials and evaluate responses," he said.
"[This would be] a four-month delay in the implementation of the new technique and would have further limited the capacity to address urgent conservation issues in the alpine park, including access issues in the winter months".
Parks Victoria was well aware of people's concerns about shooting horses and had considered them, he said.
The feral horse population has soared in the past five years – from about 9200 in 2014 to 25,300 in 2019 across the Australian alps.
Justice Moore adjourned the matter for judgment on Friday.
Miki Perkins is a senior journalist and Environment Reporter at The Age.
Most Viewed in Environment
Loading