"I'm a little bit angry about what I'm perceiving to be an incredibly poor process. And it's not enough for us to politely request that these changes be made prior to [the] final exhibition. They must be made significant enough that the planning scheme amendment needs to be re-exhibited."
The council voted unanimously on Tuesday night to request the government ensure the planning scheme amendment for the area includes building-height limits, pedestrian and cycling links and sustainable design parameters.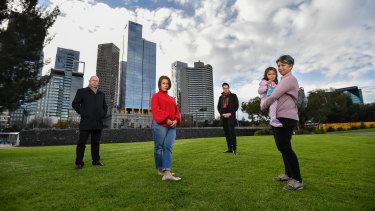 Mirvac and super fund Cbus Property were shortlisted out of 11 interested parties to develop the project on Tuesday, with Colliers International managing the process. The public submissions on planning controls for the site close on Friday.
Planning Minister Richard Wynne excluded 'Spring Street South', which encompasses the 1.4-hectare site, from the sunlight to public parks amendment, along with the Hoddle Grid, Southbank and Docklands.
Urban design expert Andy Fergus said there was a risk a rushed sale of the site could interfere with the masterplan for the area over the coming decades.
"There is a risk … that there would be dramatically increased overshadowing of Birrarung Marr, which would reduce its usability to Melburnians," Mr Fergus said.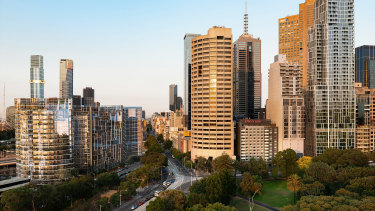 Mr Fergus said the government was treating the site like it was insignificant and available to the highest bidder.
"Right now there is no vision, there is no security, there's no fallback, it's just a land sale," he said.
"The ability to achieve a sensitive, carefully considered development envelop with public spaces, that's a really tough battle … which is going to play out in a spreadsheet, not as a design proposal."
Mr Fergus said the government would be better off retaining the land and leasing it ensure it integrated with the area.
"There's a real legacy in Melbourne of mistakes of one generation affecting the others," he said.
"The last thing we want to do is build a pimple on the edge of the city that stops us being able to integrate that much more heroic narrative about building Melbourne's new edge."
City resident Greg Bisinella, convener of the East Melbourne Group's planning committee, which also made a submission, said there had been a lack of transparency about the site, which was currently zoned for public transport use.
Mr Bisinella, who lived near the site, said the group wanted to see a development of architectural significance, which included public open space and height restrictions.
"We don't want to see a tower with a podium and no public benefit," he said.
A government spokeswoman said Mr Wynne welcomed the council's contribution and would consider all submissions when making a decision on the next steps for the proposal.
She said the potential for a design competition – suggested by the council – was a matter for VicTrack.
Mirvac and Cbus Property are due to lodge their final offers in July.
Chloe Booker is a reporter at The Age.