"While we're focusing on preventing community-wide infections, facilities that are used by unspecified individuals are exposed to infections, and it's been difficult to track down contacts since the number of cases have been rising in large-scale workplaces," Jung Eun-kyeong, head of KCDC, said during a briefing Wednesday.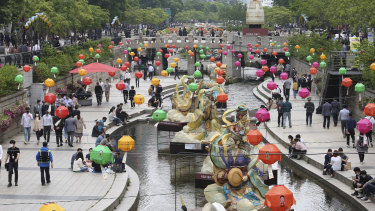 The country's top infectious disease expert said South Korea may need to reimpose social distancing restrictions because it's becoming increasingly difficult for health workers to track the spread of COVID-19 amid warmer weather and eased attitudes on distancing.
"We will do our best to trace contacts and implement preventive measures, but there's a limit to such efforts," Jung said.
"Young people have a very broad range of activity, so at the point of diagnosis, there's already a lot of exposure … the number of people or locations we have to trace are increasing geometrically," he added.
Seoul and nearby cities had restored some control in recent weeks by re-closing thousands of bars, karaoke rooms and other entertainment venues to slow the spread of the virus.
The daily new cases in South Korea had dipped to between 12 and 35 for the last three weeks, marking a hard won success against the virus.
Loading
In early March, it had the second highest number of infected cases globally after China, as infections spiked to more than 800 a day because of a cluster linked to a religious sect. But within a month, it was able to slow the outbreak without severe measures such as a nationwide lockdown or banning overseas travel.
The local authorities instead relied on drive-in centres and phone booth-like stalls for testing and tracked down potential infections by tracing patients' credit card transactions and smartphone usage.