That's it from me for the night. Thanks for following, and goodnight. My colleague Marissa Calligeros will be back with more COVID-19 news bright and early tomorrow. From 6am, if you're up.
There have now been more than 5.7 million cases worldwide and more than 356,000 deaths, according to Johns Hopkins University data. More than 2.36 million people have also recovered.
To recap, here are the major developments from today:
Ten new cases were recorded in Victoria, including a second employee at Rydges on Swanston hotel, which is housing people in quarantine.
Chief Health Officer Brett Sutton says it's not out of the question for some Victorian workers to start returning to office buildings from July.
The state government has rejected a NSW-style public sector wage freeze as it prepares to sign a new pay deal with public servants.
South Australia's Chief Public Health Officer Nicola Spurrier has said it was an "administrative oversight" that led to a British woman with coronavirus flying from Melbourne to Adelaide this weekend, after previously blaming Victorian authorities.
Another six crew members from the Al Kuwait livestock ship docked off Western Australia have tested positive to COVID-19, taking the cluster to 12 infections.
And Western Australia is expected to slump into recession next financial year, with a $12 billion hit from the coronavirus pandemic.
More than 20,000 households and small business electricity customers have registered for financial hardship payment plans since March.
RBA governor Dr Philip Lowe told a Senate Committee that the JobKeeper payments may need to be extended to support the recovery.
South Korea reported its biggest spike in new cases in nearly two months, with 79 new cases, raising fears of a second wave of infections.
Premier Daniel Andrews will call for a truce when state, territory and Commonwealth leaders gather for their regular national cabinet video meeting on Friday, after a sustained attack in recent weeks by the federal government over Victoria's COVID-19 response and its dealings with China.
Mr Andrews will also warn his counterparts that commuters are flooding back onto the state's roads and public transport system, raising alarm in the state government that the "work from home" message has stopped getting through.
The Victorian leader will also warn that further easing of lockdown restrictions in the state next week could be in jeopardy if people return to work too soon.
The number of people in France looking for jobs surged in April by 22.6 per cent to a record high as a nationwide coronavirus lockdown shut down swathes of the economy, Labour Ministry data showed on Thursday.
The number of people registered as seeking work jumped by 843,000 from March to 4,575,500, the highest since records began in 1996, the Labour Ministry said.
The ministry said that the surge was due to a nearly 35 per cent drop in the number of people getting new jobs while the number of people of joining the tally fell 19 per cent.
The data do not include people who have been put on state-subsided furloughs during the crisis, which the ministry said on Wednesday numbered nearly 13 million.
France's government put the country under one of the most strict lockdowns in Europe in mid March and the country is only gradually emerging after most restrictions were lifted on May 11.
Reuters
Manhunts have begun after hundreds of people, some with the coronavirus, fled quarantine centres in Zimbabwe and Malawi while authorities worry they will spread COVID-19 in countries whose health systems can be rapidly overwhelmed.
In Malawi, more than 400 people recently repatriated from South Africa and elsewhere fled a centre at a stadium in Blantyre, jumping over a fence or strolling out the gate while police and health workers watched. Police and health workers told reporters they were unable to stop them as they lacked adequate protective gear.
At least 46 escapees had tested positive for the virus. Some of those who fled told reporters they had bribed police.
And in Zimbabwe, police spokesman Paul Nyathi said officers were "hunting down" more than 100 people who escaped from centres where a 21-day quarantine is mandatory for those returning from abroad.
"They escape and sneak into the villages . We are warning people to stop sheltering them. These escapees are becoming a serious danger to communities," Nyathi said.
Nearly all of Zimbabwe's 75 new cases this week came from the centres that hold hundreds of people who have returned, sometimes involuntarily, from neighbouring South Africa and Botswana.
The quarantine centres have become "our source of danger," Health Minister Obadiah Moyo told a special parliamentary committee this week.
Both Zimbabwe and Malawi have fewer than 200 confirmed cases but regional power South Africa, where many in both countries go to seek work, has more than 25,000.
Zimbabwe's information minister, Monica Mutsvangwa, on Wednesday told reporters that the government is increasing security at the schools, colleges and hotels used as quarantine centres. Government spokesman Nick Mangwana suggested that security officers guarding centres with high walls and razor wire might be receiving bribes to allow people to leave early.
Zimbabwe's government is also worried about people crossing porous borders and failing to report at quarantine centres. The information ministry has begun sharing a hotline number and asking people to stop harbouring "border jumpers" and those who "abscond" from quarantine.
Malawi saw another mass escape earlier this week when 26 people left the Mwanza border post while waiting for test results.
The Blantyre district director of health and social services, Gift Kawalazira, said they were overwhelmed when more than 2,000 people turned up at the border post in Mwanza over the weekend. Holding some in the stadium was a last-minute resort after plans to use education facilities failed for lack of funds, he said.
"They will be moving around while trying to elude authorities," he said of the escapees, including a smaller group that slipped away from a Blantyre centre on Monday. Eight had tested positive for the virus.
"People need to understand that it is not punishment but we are only doing this to protect the general public," Kawalazira said.
Few prevention measures could be seen at the stadium, with people leaving freely to buy food from nearby vendors. They told reporters they had received no food from authorities since Monday.
Relatives of some of the returnees entered the stadium to visit, giving loved ones hugs.
A Siberian zoo that closed its doors to visitors for over two months due to the coronavirus says the lockdown has encouraged a baby boom among its animals.
Among the zoo's new arrivals are rare Egyptian goslings, reindeer calves, llama crias and a baby brown weeper capuchin monkey.
"Judging by the baby boom, the lockdown has clearly been good for us because there are a lot of interesting and beautiful baby animals now," said Andrei Gorban, the director of Krasnoyarsk's Royev Ruchey Zoo.
Gorban said that while the absence of visitors had encouraged mating among some residents, it had confused others and prompted changes in their behaviour.
"Many [of the animals] are anxious because they really don't understand what's going on. They have this sort of look of expectation in their eyes," Gorban said.
Looking for some good news?
We could all do with some good news right about now. That's why we have launched The Good News Group, a Facebook group where we'll share uplifting, inspiring and positive stories and invite members to do the same. Join the group here.
The zoo's herd of camels are among those who appear to be missing visitors; they now follow every zoo employee who walks past their enclosure.
Gorban said that while there were advantages to the lack of visitors, the zoo's finances were suffering.
Russian President Vladimir Putin ordered the lockdown measures in March to slow the spread of the coronavirus, although the country's regions did have some say over local rules.
Reuters
After a COVID-enforced break, the rugby league has just kicked off. NRL reporter Adam Pengilly is covering the match on yet another live blog here.
A lot has happened since the competition was paused: players and officials went into lockdown, staff were laid off, the game's finances were assessed as so terminal it would collapse if there were no more games for the year, and NRL chief executive Todd Greenberg parted ways with head office.
It's not exactly Richmond v Collingwood, but you can head to the NRL blog here as the Brisbane Broncos take on Parramatta Eels.
Meanwhile, the NRL has agreed to a new broadcast deal with Nine Entertainment Co (the publisher of this website) and Foxtel to secure the future of the code.
After months of negotiations, the deal was struck just in time to announce it before the season resumed with an Eels-Broncos blockbuster at Suncorp Stadium on Thursday night.
with Matt Bungard
The NSW government will allow up to 20 people at weddings and 50 people at funerals and places of worship from Monday, as it continues to ease COVID-19 restrictions.
But there will be no choirs, sharing books or passing of collection plates. Everyone must also maintain social distancing, including the four-square metre rule at indoor gatherings.
Victorian authorities have already announced similar rules for weddings, funerals and churches starting Monday.
In Victoria, up to 20 people will be allowed at a place of worship for a small ceremony. Twenty guests will also be allowed at weddings from Monday, while 50 mourners will be allowed to attend a funeral.
NSW Health has developed a checklist to help places of worship create a COVID-19 safety plan that covers physical distancing measures, hygiene and cleaning protocols.
NSW's daily tally of confirmed cases has been in the low single digits for almost four weeks, while the number of daily tests have not strayed below 6000.
The results have buoyed the government's cautious optimism that NSW is on track to continue relaxing restrictions.
There are 79 COVID-19 patients being treated by NSW Health including one person in an intensive care unit on a ventilator.
A total of 2670 people have recovered from COVID-19, NSW Health said.
with Rachel Eddie
Junior sport has long relied on the efforts of volunteers to operate, through cold winter nights and busy Sunday mornings.
Once its returns following the relaxation of COVID-19 restrictions, Sports Australia chief executive Rob Dalton says the onus will more than ever be on parents and coaches of junior teams to get sport back underway.
"Our volunteer network is amazing and I'm really confident, talking to our sports, that our volunteers will all come back," Mr Dalton said.
"They've proven to be able to run competitions in the past and I have no reason to doubt they'll be able to do it in the future.
But Dalton said the intention was not to "burden millions of sporting volunteers with rules and red tape".
Victoria Police issued more fines for coronavirus lockdown breaches than any other state or territory partly because so many people dobbed others in, according to Chief Commissioner Graham Ashton.
"The police assistance lines were full of calls," Mr Ashton told 3AW when asked whether Victorians had been over-policed.
"We were getting smashed with people wanting to say 'Oh, these people have got more people in their home, these people were out, people are on the beaches."
Almost 6000 Victorians received fines for breaching the COVID-19 restrictions – about three times more than Queenslanders and four times more than NSW, The Age revealed today.
The state Labor government has rejected a NSW-style public sector wage freeze as it prepares to sign a new pay deal with 40,000 of its public servants within weeks.
Victoria, which is expected to settle on a new agreement with the public servants for an increase between 2 and 3 per cent, says it will not change its public-sector bargaining policy which it says guarantees minimum 2 per cent pay rises for its 320,000 employees.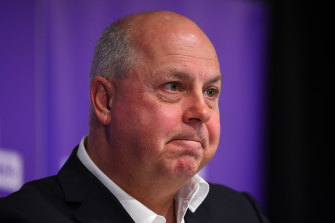 Treasurer Tim Pallas on Thursday said that the policy would not change despite another warning from an international credit ratings agency this week that government wage growth needed to be reined in.