Thanks for reading. This is Matt Bungard signing off. We'll be back tomorrow with more live, free coverage of the coronavirus pandemic.
This is what you need to know from today:
We'll continue our live coverage of the pandemic early on Friday morning with Mary Ward.
After a significant rise in coronavirus infections, South Korea is tightening restrictions in Seoul and its outskirts again, the country's health minister has announced after a crisis meeting chaired by Premier Chung Sye Kyun.
Public institutions including museums, theatres and multifunctional halls in the greater Seoul area would again be shut down immediately until June 14, Health Minister Park Neung Hoo said.
"The next two weeks are critical," he said on Thursday.
South Korea had already begun lifting the restrictions imposed to curb the spread of the virus.
However, authorities were alerted recently to a new local cluster of infections, this time in the distribution centre of a mail-order company in the Seoul suburb of Bucheon.
By Thursday morning, more than 80 cases had been confirmed among employees and people they had been in contact with.
More than 4000 people were tested.
It was likely that the outbreak had already spread to the communities, Park said.
He called on people to avoid gatherings as much as possible over the next two weeks.
In the capital Seoul, an accumulation of infections among clubgoers this month had already triggered fears of a new wave of mass infections.
About half of the country's 51.6 million inhabitants live in the greater Seoul area.
So far, the government hasn't considered closing schools again, which have been gradually reopening nationwide since last week.
Health authorities had recorded 79 new coronavirus infections nationwide the day before, the highest increase in almost two months, lifting the total number of infections to 11,344.
Premier Daniel Andrews will call for a truce when state, territory and Commonwealth leaders gather for their regular national cabinet meeting on Friday, after a sustained attack in recent weeks by the federal government over Victoria's COVID-19 response and its dealings with China.
Mr Andrews will also warn his counterparts that commuters are flooding back onto the state's roads and public transport system, raising alarm in the state government that the "work from home" message has stopped getting through.
The Victorian leader will also warn the cross-government meeting that further easing of lockdown restrictions in the state next week could be in jeopardy if people return to work too soon.
Mr Andrews will present figures showing hundreds of thousands more people have been driving and catching public transport around Victoria in the past week, making physical distancing difficult and risking the spread of COVID-19.
The number of people in France looking for jobs surged in April by 22.6 per cent to a record high as a nationwide coronavirus lockdown shut down swathes of the economy, Labour Ministry data showed on Thursday.
The number of people registered as seeking work jumped by 843,000 from March to 4,575,500 – the highest since records began in 1996.
The ministry said that the surge was due to a nearly 35 per cent drop in the number of people getting new jobs while the number of people of joining the tally fell 19 per cent.
The data do not include people who have been put on state-subsided furloughs during the crisis, which the ministry said on Wednesday numbered nearly 13 million.
France's government put the country under one of the most strict lockdowns in Europe in mid-March and the country is only gradually emerging after most restrictions were lifted on May 11.
Reuters
Cricket Australia has come under fire from Western Australia over the state's fixture snub and is set for more scrutiny from the game's stakeholders when its claims of a financial crisis are put to the test.
While the WACA deals with its "kick in the guts" after being overlooked to host a Test against India, Jolimont has indicated it will meet the Friday deadline set by the players to present its projected Australian cricket revenue for 2020-21.
CA's financial forecast is a key step in the contracting process for the nation's elite players, who are still awaiting their ranking from selectors, which governs their remuneration for the upcoming season.
The numbers will be closely analysed by the players and the states, who have both been sceptical about the dire outlook claimed by headquarters.
The state Labor government has rejected a NSW-style public sector wage freeze as it prepares to sign a new pay deal with 40,000 of its public servants within weeks.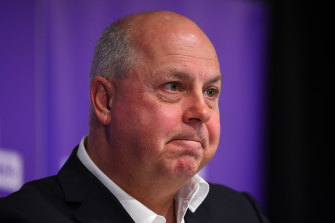 The state, which is expected to settle on a new agreement with the public servants for an increase between 2 and 3 per cent, says it will not change its public-sector bargaining policy which it says guarantees minimum 2 per cent pay rises for its 320,000 employees.
Treasurer Tim Pallas, who is prepared to borrow $24 billion to pay for the state's response to the COVID-19 crisis, said on Thursday that the policy would not change despite another warning from an international credit ratings agency this week that government wage growth needed to be reined in.
Rugby league is just a few minutes from returning – and NRL reporter Adam Pengilly will be covering it from start to finish.
Since then the competition was halted, players and officials went into lockdown, club and NRL staff were stood down and laid off, the game's finances assessed as so terminal it would collapse if there were no more games for the year, NRL chief executive Todd Greenberg parted ways with head office after four years, and plenty more happened. But now rugba leeg, as Peter V'Landys would say, is back.
You can find that blog here – blogception, I know, promoting a blog within a blog – but the Brisbane Broncos and Parramatta Eels are about to kick-off, and millions of people around the world will be watching.
Up to 20 people will be able to attend weddings and 50 people can gather at funerals and their places of worship from Monday as the NSW government continues to ease COVID-19 restrictions.
But there will be no choirs, sharing books or passing of collection plates and everyone must maintain social distancing, including the four-square metre rule at indoor gatherings.
NSW Health has developed a checklist to help places of worship create a tailored COVID-19 safety plan that covers physical distancing measures, hygiene and cleaning protocols to ensure they can keep participants as safe as possible.
Since May 15, weddings have been limited to 10 guests excluding the couple, the person conducting the service, a photographer and videographer. Indoor funerals were limited to 20 mourners, outdoor funerals 30 and religious gatherings of 10 worshippers.
NSW's daily tallies of confirmed cases has been in the low single digits for almost four weeks and daily testing rates have not dipped below 6000.
The results have buoyed the government's cautious optimism that NSW is on track to continue relaxing restrictions.
There are 79 COVID-19 patients being treated by NSW Health including one person in an intensive care unit on a ventilator.
A total of 2670 people have recovered from COVID-19, NSW Health said.
Victoria Police issued more fines for coronavirus lockdown breaches than any other state or territory partly because so many people dobbed others in, according to the force's chief.
Almost 6000 Victorians received fines for breaching the COVID-19 restrictions, about three times more than Queenslanders and four times more than NSW, The Age revealed on Thursday.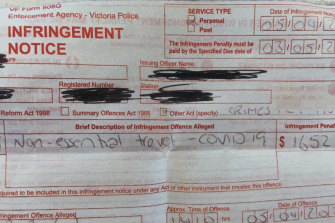 In comparison police in London, a city of almost nine million people, handed out just 906 fines, according to a BBC report.
Chief Commissioner Graham Ashton said the numbers were higher because of the high volume of calls from the public reporting breaches.
"The police assistance lines were full of calls," Mr Ashton told 3AW when asked to respond to suggestions the restrictions had been over-policed.
The phone line received almost 70,000 calls from the public, with more than 25,000 reporting illegal gatherings and isolation breaches.
Thinking of maybe Kim Jong-un, your mate who hates the Bunnies decked out in cardinal and myrtle or even a mock-up of the Herald's own Peter FitzSimons … sorry to be the bearer of bad news, but they're not going to make it.
Oh well, at least it was fun dreaming.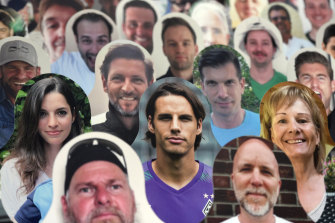 The good news? We know rugby league fans haven't lost their sense of humour during COVID-19.