That's us done for the night.
What a remarkable evening for the NRL, the first professional sporting code in Australia back on the field after 10 weeks of COVID-19 shutdown. There were no crowds and plenty of fake noise, but nothing fake about the Eels who run out big 34-6 winners over the Broncos to remain unbeaten this season.
You can read Phil Lutton's match report here.
And just think tomorrow night, we've got the old rivals the Rabbitohs and Roosters going at it. I can't wait.
Good night!
For the Broncos, how about this from Payne Haas. He's run for 170 metres and made 49 tackles … in a losing side. The man is a machine. That stat line certainly looks prettier than the cauliflowered ear of Eels hooker Reed Mahoney.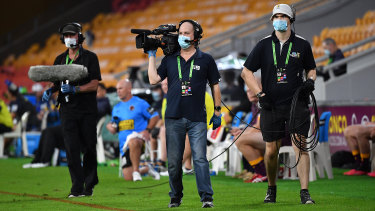 Quick re-cap of the stats. The Eels had a whopping 61 per cent of possession, no doubt helped by Brisbane's miserable 60 per cent completion rate. Very lopsided, as you can imagine, in the metres gained with the Eels running for more than 1000 metres than their opponents. Reagan Campbell-Gillard led the way up front with 194 metres while fullback Clint Gutherson fell just shy of 250.
And now they head back to Bankwest Stadium for the next month, starting with a grudge clash against Des Hasler's Manly next week. That should be tasty.
Let's hope our American friends are still tuning in.
I'm not sure I would want to wait for another 10 weeks to watch a game like that, but that was really entertaining viewing despite the scoreline blowout in the last 20 minutes.
I don't think we're going to find too many critics of the one referee and new six again rule, which no doubt contributed to a much faster game. It's only a very small sample size, but positive signs nonetheless. No wonder the Broncos folded late given the pressure they had to absorb in the first half.
The Eels can celebrate briefly in the Suncorp Stadium sheds before heading straight for Brisbane Airport.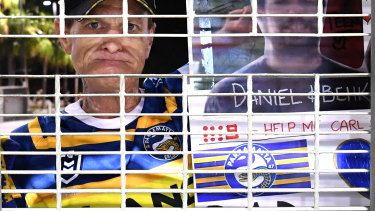 Well, I know we're still only early in the season. But I'm a believer. That was comprehensive from the Eels, 34-6 victors over a Broncos team which just ran out of steam in the second half. Absolutely relentless from Brad Arthur's men. They're three from three to start the season.
Now it's Waqa Blake's turn in his 100th NRL match. That's beautiful to watch. Mitchell Moses gives a short ball to Ryan Matterson who runs a smart line and then pops a one-handed offload to the former Penrith flyer who races over. That was as good as we've seen all night. Brilliant.
Moses adds another two points. Parramatta now leading 34-6 in the final minute.
And more than two months of COVID-19 lockdown hasn't improved my footy tipping…
There are some very tired boys out there. I don't think anyone would anticipate the game would be played at such a tempo this week. Both sets of players will sleep well tonight, whenever they get home. For the Eels that could be anywhere after 1am after their flight lands in Sydney. At least they'll go to bed knowing it's the first time the club has started a season 3-0 since 1993.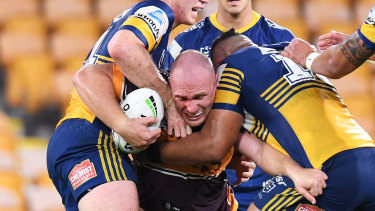 The Eels are at it again.
Shaun Lane, all 273cm of him (well, near enough), runs straight over the top of Kotoni Staggs from close range after a neat ball from Clint Gutherson. Staggs had no chance defending such a big man that close to his own line. Moses makes no mistake with the conversion. It's 28-6 with just 13 minutes left.
Very, very clinical from the Eels tonight. Guessing tomorrow's back page headlines. How about Eel Deal? Nah, probably been used dozens of times before.
Barring a massive turnaround, expect the Eels to still be sitting at the top of the ladder heading into round four next week. Maybe the only thing that will make the blue and gold faithful smile more could be this tweet about Penrith No.7 Nathan Cleary…
Uh oh. That might be curtains for the Broncos. Michael Jennings jinks his way over against some soft defence from close range. It's his 148th try in the top grade. Mitchell Moses adds the extras. It's now 22-6 to the Eels with only 17 minutes left. That knockout blow I was talking about…