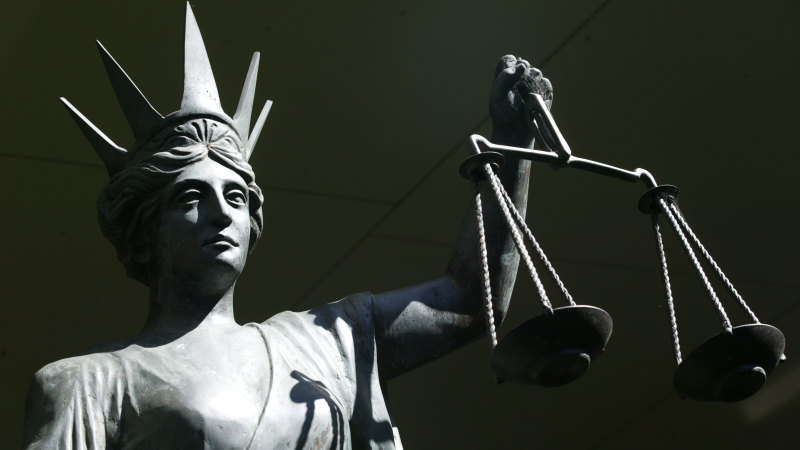 "In blunt terms, it was truly horrific," the judge said while sentencing Hutchison to at least three years in jail.
Sergeant French has fully recovered from his physical injuries – miraculously limited to a fractured foot and finger, and bruising.
But he suffers post-traumatic stress disorder, is hyper-vigilant and is embarrassed about becoming easily emotional since the incident, in which he firmly believed he was about to die.
Judge Mullaly said the life of the dedicated and enthusiastic officer changed for the worse because he was bravely doing his duty.
The job took courage and he was to be commended, he said.
Hutchison, who appeared by video link from jail, became agitated as the sentence was read.
Prison officers had to take him from the room to cool down after he said he was going to "destroy things".
Hutchison's lawyer Jo Swiney said he was distressed about hearing the description of the day, and he was not being disrespectful to the court.
The judge said the 23-year-old's family was troubled by his offending.
He is of low intelligence, bordering on an intellectual disability.
Hutchison said he was severely depressed and suicidal on the day of the incident. He had a jerry can of petrol in the car and police had tried to negotiate with him.
He drove at "extreme speeds" on the Westgate freeway toward Geelong, through the city and on the Great Ocean Road toward Anglesea, before heading back to Geelong.
Police tried to damage Hutchison's tyres to slow him down, but he continued at speeds up to 130km/h, overtaking cars on the wrong side of the road despite his damaged tyres.
Hutchison too is diagnosed with PTSD and the judge said it was plain his mental health was still fragile.
Hutchison has been physically abused in prison and stood over.
Judge Mullaly said it was grave to sentence a first-time offender to prison, but his actions required it.
He ordered Hutchison serve at least three years of a four-year-and-nine-month sentence.
If you or anyone you know needs support, you can contact Lifeline 131 114, or beyondblue 1300 224 636.