Outside of work hours I was surprised to find I kept it closed most of the time, thanks to a genius little display on the outside cover that lets you access some features of the phone without exposing you to all the distracting notifications and infinitely scrolling feeds.
There's definitely something nostalgic about clutching the chunky little square while listening to music, as though it's an early 2000s MP3 player. Whether I had Bluetooth headphones on or was casting to my stereo over Wi-Fi, at a tap I could bring up a control panel on the cover display to skip tracks or play/pause, and the volume buttons are cleverly flipped when the device is closed to make sure they work as expected.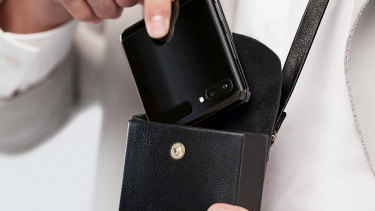 What I like most about the screen is that, unlike the ambient displays of most other phones, it isn't lighting up constantly with notifications. You can swipe to see what apps are trying to get your attention, it lights up to show you who's calling, and you can even use it as an unexpectedly functional little selfie viewfinder for quick snaps, but the need to physically open the phone to do much else stopped me from gawping aimlessly.
A clever secondary display probably isn't enough to outweigh the potential downsides of the Galaxy Z Flip. Samsung still hasn't worked out a way to protect its foldy phones from being killed by accidental dunks in water for example, and the soft inner screen — while feeling hard like glass — comes with a list of scary warnings that makes me worry about longevity.
Loading
But unlike the Galaxy Fold, which worked but offered the choice of pointlessly small phone screen or needlessly large phone screen, the Z Flip demonstrates how a folding phone could add value by augmenting the regular phone experience. Assuming the fragility concerns could be well and truly put to bed, I'm excited to see the future of phones that can be folded away but still useful when you don't need the full experience.