Police Accountability Project principal solicitor Gregor Husper said the shooting showed a need for health professionals to be among the first responders.
"People with mental illness and their families deserve better outcomes broadly and that means that better care, better services, to prevent these sort of incidents," Mr Husper said.
"For anyone whose loved ones have a mental illness … They rightfully fear what will be the [police] response."
Mr Husper said the focus should not be on new training regimes, but system-wide reform, calling for the creation of an independent complaints body.
Swinburne University forensic psychologist Professor James Ogloff, who has worked with Australian and Canadian law enforcement agencies on police training, said Victoria Police had been working to make mental health training a higher priority.
"There is however more that can be done," Professor Ogloff said.
"I know Victoria Police have investigated trying to increase training for members but the area requires ongoing development.
"The difficulty is in crisis situations in particular you need to be working very quickly to try to exhaust whatever options are there for you.
"Even under those circumstances, tragically a number of the deaths are unavoidable. In order to maximise positive outcomes, police need to continue to hone their skills at escalating and engaging with people in a crisis."
Professor Ogloff said for a organisation as big as Victoria Police it was "very daunting" and expensive to and comprehensively train thousands of officer.
"It's just a massive undertaking. They have updated training and organise new training but it's an area that needs to continue. There are well validated training programs now available and those are the things Victoria Police could benefit from."
Mr Gatt said training was ongoing for police in dealing with people with mental illness.
"Not only are they intensely trained at recruitment, there is mandatory training and every member must qualify every six months," he said.
Investigators are examining what prompted the distressed Narre Warren man to approach and threaten a group of police officers with a knife before he was shot.
A police officer was attempting to calm the man next to the freeway on ramp near the EastLink interchange in Dandenong North about 10am Thursday when he pulled a knife and threatened the officers.
Police first fired non-lethal bullets – known as a bean bag round – as the man approached officers, and then shot him in the chest with a semi-automatic firearm. The man died at the scene.
The man was known to police and appeared to be having a mental health episode, Assistant Police Commissioner Bob Hill said on Thursday.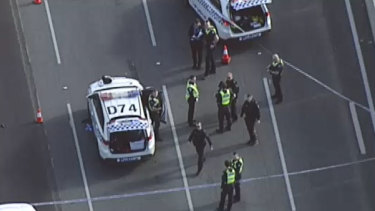 Asked on Friday whether officers could shoot to wound instead of using lethal force, a Victoria Police spokeswoman said: "Police often operate in dynamic and challenging situations and are trained to stop any threats or risks that presents to either the community or first responders."
The spokeswoman directed The Age to the organisation's submission to the Royal Commission into Victoria's Mental Health System, which says police and PSO recruits take part in "dedicated training related to mental health literacy".
A specialist mental health education and training package for all frontline police to improve their capability to manage these incidents, including referral to treatment services, is currently being developed.
"One of the key concerns for Victoria Police is to ensure that police are equipped with the knowledge and skills to deliver appropriately-tailored policing responses and services to people experiencing mental health issues," the spokeswoman said.
If you or anyone you know needs support call Lifeline 131 114, or Beyond Blue 1300 224 636.
Simone is a crime reporter for The Age. Most recently she covered breaking news for The Age, and before that for The Australian in Melbourne.