"If you asked me if I felt comfortable walking back into the football club, I'd say no," McLeod said on the Bunji and Brettster podcast.
"I've had this conversation with a lot of my old teammates. You see lots of guys go back to their footy clubs and feel welcome.
"For me the Crows – it doesn't really have that vibe, it doesn't have that vibe where it feels like you're really welcome there.
"I've done some work there with my programs and whatnot. But it's not a place that you feel like it embraces you as a past player."
Ricciuto responded on social media after seeing the comments.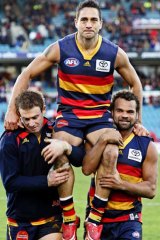 "It's not the way I feel or Rod Jameson who heads up the Past Players [committee] feel or I doubt other players on the committee like Mark Bickley, Peter Caven, Kym Koster or current player Tom Lynch would feel," Ricciuto wrote on Twitter.
"I'm looking forward to hearing why he said it."
Ricciuto, third on the all-time Adelaide games record list behind McLeod and Tyson Edwards, is now the club's football director and continues to be the public face of the club.
McLeod, who retired at the end of the 2010 season, worked with Adelaide's AFLW team in 2018 and previously managed the club's Indigenous programs.
Crows chairman Rob Chapman has sought out McLeod to discuss the comments but is yet to speak to him.
"I love Andrew, we all do," Chapman told Triple M radio.
"His actions don't match the words that I have seen attributed to him. We have spoken to a lot of players today and they don't quite get it.
"Look, I'm glad we're confronting it because we have got to own what has transpired and I'm sure we will get to the bottom of that."
During his playing career, McLeod was critical of the Crows hierarchy for a perceived lack of support throughout his falling-out with Edwards. The pair didn't speak to each other off-field for years from 2005 in a feud which embroiled their wives and tennis star Lleyton Hewitt, a Crows fan.
Sam McClure is a sport reporter for The Age and winner of 'best news reporter' at the AFL Media Association awards.