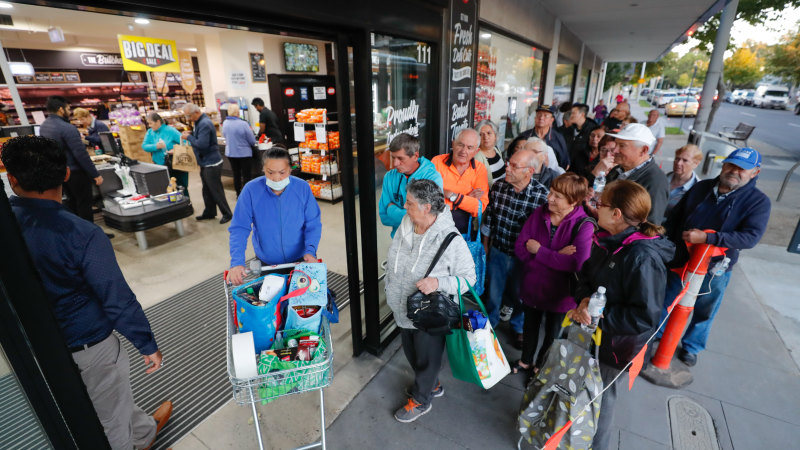 Panic buying escalated through March in Australia. Sales of canned and dry soup surged by 180 per cent, purchases of toilet and tissue paper doubled while there were also short-term shortages of flour, rice and pasta.
While panic buying was common, Australian shoppers took it to an extreme level. In a "panic index" created by Professor Keane and Mr Neal, Australia eclipsed shoppers from around the world.
"The experience of Australia is notable for the incredible speed and scale with which panic took hold in early March," they found.
"Unlike in other countries, the escalation in panic does not appear to correspond with any significant increase in domestic COVID-19 cases."
So extreme was domestic panic buying, the researchers had to modify the graphs in their paper to show the extent of Australians' efforts to find sought-after goods.
Loading
Professor Keane and Mr Neal said it was likely panic buying was associated with border bans, but Australia was an international outlier. They found Australians may have reacted to restrictions in other countries.
Both warned there were economic and medical repercussions from panic buying.
"Shortages created by panic buying also force consumers to devote extra time and effort to shopping, diverting time away from welfare-improving activities like work, leisure, and sleep, as well as generating psychological costs by inducing anxiety and stress," they found.
Australian National University marketing lecturer Andrew Hughes said it appeared Australians had been overwhelmed with FOMO, the fear-of-missing-out.
"Once one person misses out on something, the FOMO principle kicks in. In this day and age, once people think they are going to miss out on something, it triggers a fear that they'll miss out on it," he said.
"It could be an iPhone or it could be toilet paper."
While panic buying has subsided, some spending habits have changed since the coronavirus outbreak.
NAB's measure of online shopping, released on Tuesday, showed cyber-sales grew 16.2 per cent in April, the single largest monthly increase on record. Annually, online sales were up a record 58.5 per cent.
Shane is a senior economics correspondent for The Age and The Sydney Morning Herald.