Last year, Dugan openly discussed his off-field struggles with anxiety and painkiller medications.
After the course, the players will be employable as social workers. And Dugan has completed a Diploma of Counselling, which means he is qualified to become a front-line worker.
"If those older boys, those boys that have made a name for it, can do it I'm sure somebody like me who is a nobody at the moment can do it," Mulitalo said.
Braden Hamlin-Uele, 25, has also been a role model for the youngsters and encouraged his teammates to write their thoughts and feelings in journals. Fifita, Uele, Dugan, Mulitalo, Jayson Bukuya, Kyle Paterson and Cameron King have all enrolled.
After Xerri's doping scandal, Mulitalo said the course had allowed the group to open up about the pressures on young NRL players.
"It's just about making it a comfortable environment when you get back to training to be able to talk about things that blokes don't normally talk about," he said.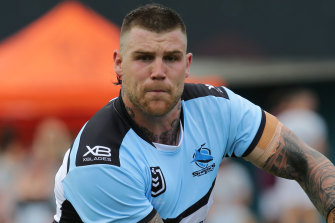 The boy's TAFE teacher Darryl Gardiner said in his 18 years in the mental health industry, he had never seen a group of young men more committed to using their own experiences to help young people in the community.
"After the pandemic, they were all really keen to get back into some sort of regular study," he said. "They have been a real pleasure to work with."
The Sharks squad may be without their on-field leader during Saturday night's clash against North Queensland, with halfback Chad Townsend likely to be absent due to a hamstring injury.
Loading
But Matt Moylan was upbeat about his chances of being available.
"I feel pretty confident. I have worked hard on getting my hammy and calf under control," Moylan said on Tuesday. "I feel like I have done that and got enough training into it.
"But the only way to know for sure is to go out there and put a performance in."
The Sharks will face former teammate Valentine Holmes, with Moylan on alert for the fullback's tactics.
"Obviously he is going to be a big part of their attack," Moylan said. "You have to be on your game because he can tear apart a game at any moment."
Sarah is a journalist for The Sydney Morning Herald.