The pollution alert was raised by Ian Wright, a senior lecturer at Western Sydney University, after water samples he collected in mid-April revealed levels of particulates at two-thirds higher than the permitted levels.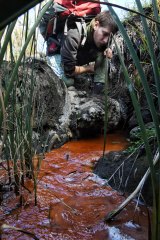 The findings suggest salinity levels in the nearby Bargo River – which flows into the Mermaid Pools swimming spots and eventually the Nepean River – were six times higher than above the mine's discharge point.
Nitrogen – likely sourced from the mine's sewage, but not identified as a pollutant in the mine's operating licence – were also triple the levels likely to spur excessive algae growth and harm river ecosystems, Dr Wright said.
Nickel levels also rose 39 times to "hazardous levels" of 39 micrograms per litre. Australian water quality guidelines show 95 per cent of aquatic species are affected if nickel exceeds 11 micrograms.
Zinc, uranium and arsenic concentrations were also lifted.
"It's a very, very salty mine," Dr Wright said, adding the levels permitted by the Environment Protection Authority (EPA) of aluminium, nickel and zinc were high enough to "kill the river all the way to Penrith".
The EPA said it was "investigating this incident," adding it had collected its own samples and directed Tahmoor Colliery to provide an incident report.
"Following this discharge, and in discussion with the EPA, Tahmoor Colliery has made changes to its water treatment and monitoring systems to improve the quality of waters discharged," an EPA spokesman said.
Mr Vale said the mine took its environmental responsibilities "very seriously". "We are consistently well below our licence limits" in terms of pollutants discharged into the Bargo River.
Loading
He put the April event down to a one-off accident that has resulted into the release of water from the mine that "was basically clay" in its composition.
The planned Tahmoor South project would include a wastewater treatment plant that would mean lower levels of pollution being released from the mine.
Mr Vale said he was confident the local community would accept the risks of subsidence caused by the mine extending under Bargo as the industry had worked in the region for decades.
"People would and should have an expectation that mining will occur in that area," he said.
The mine's extension would not only employ hundreds of people but it would also generate $162 million in benefits to the Wollondilly community in wages and business, Mr Vale said.
Peter Hannam writes on environment issues for The Sydney Morning Herald and The Age.
Most Viewed in Environment
Loading