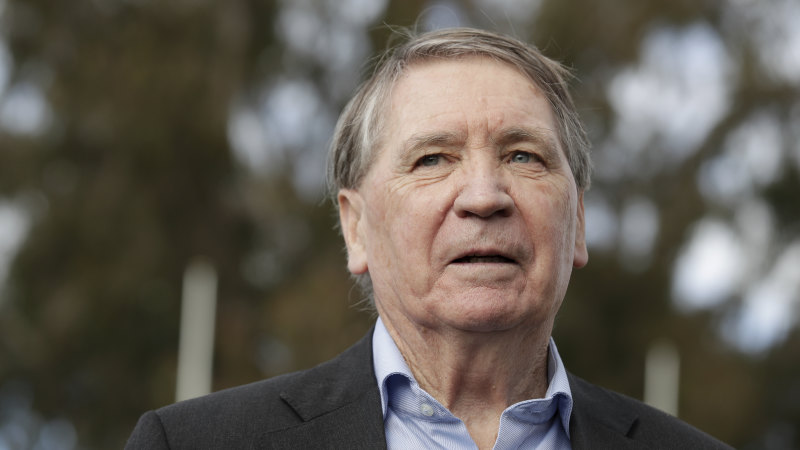 While the US's allies were likely to prefer Mr Trump not win a second term in November, Mr Richardson said "it is entirely in the hands of the American electorate and any ally who thinks they can influence the outcome of the US election by making public comments is a fool".
Mr Richardson, the ambassador to the US from 2005 to 2010, said a "historical perspective" was needed with unrest occurring following the assassination of Martin Luther King Jnr, the Vietnam war, the assassination of Robert F. Kennedy, the election of Richard Nixon, the Watergate scandal and the police beating of Rodney King in LA and subsequent court case in 1992.
But there were a number of factors which made the current riots, he said, sparked by the police killing of African-American man George Floyd in Minneapolis, different from the unrest in the past, including the divisive leadership of the US president.
"Now you also have the growth of armed militias of both the right and the left, the sharpest economic downturn since the 1930s and the continuing crisis of coronavirus," Mr Richardson said.
"I don't think there's a lot that Australia can do, or productively say publicly. I think the government has been sensibly cautious in what it has said."
Mr Richardson said Australia should double-down on its relationships in Asia, but not overreact to events taking place in the US.
"Of course we now have China. We should continue to develop our relations in southeast China – particularly with Indonesia. We also have India, Japan and South Korea," Mr Richardson said.
Loading
"The US being preoccupied with its own domestic issues doesn't help, but it's not the first time. And so many people talk about other countries playing the long game. This time we should also play a long game ourselves, this is a period where you need to have a sharp appreciation of your own strategic interests and pursue them accordingly, you don't jump around."
As riots continue to rage across the US, Mr Trump has invited Australia to join an expanded G7 group of nations alongside Russia. In a blow to Mr Trump's plans, Canadian Prime Minister Justin Trudeau this week said inviting Russia back to the word's most exclusive group of nations would be unacceptable because it was a place "for frank conversations among allies and friends".
Mr Richardson said it was not up to Australia to oppose any move by the US to invite Russia to G7 meetings.
"In a grouping of that kind, if we're invited to join, of course we should join and it would be nonsense for any Australian government to think they could veto other countries that are invited," he said.
United States Study Centre chief executive Simon Jackman said American politicians have been contacting the Australian embassy offering their support over the attack on the Channel 7 crew.
He said there was "not a lot of upside" for the Morrison government to criticise Mr Trump's response to the riots.
"Trump didn't cause the crisis but he has certainly exacerbated it and over the last 48 hours it is clear he is sort of looking at how to turn it into a political advantage," Professor Jackman said
Former defence minister Christopher Pyne on Wednesday said Mr Trump was right in calling in the military, but the "black lives matter protest is also really, really important and what happened to George Floyd is completely unacceptable".
Anthony is foreign affairs and national security correspondent for The Sydney Morning Herald and The Age.