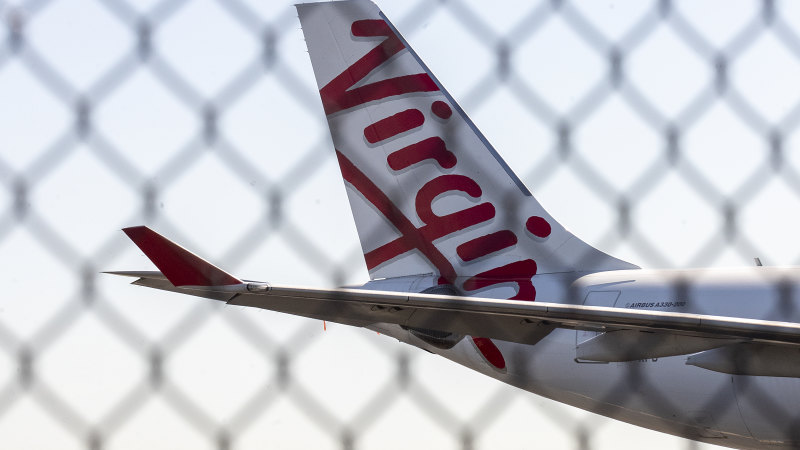 Loading
The winning takeover bid is set to sail through the Foreign Investment Review Board, despite concerns in Canberra about it being "flipped", or resold, shortly after by its new owners, with government sources confirming it would not stand in the way of either bidder.
Coalition MP Barnaby Joyce said airport landing slots should be quarantined to safeguard a second major airline, which would be a disincentive for a new owner to gut and sell the company, while also ensuring other buyers would be interested if it was put back on the market.
"If they flip it, they can't flip the slots," the former deputy prime minister and minister for transport said. "That is probably the crucial link in the viability and capacity of any airline. It is determined by the capacity to land at Sydney Airport."
Union sources said they still knew little about how many aircraft and workers Virgin would have under Bain's ownership and would push for that information in meetings over the coming weeks.
Cyrus is also yet to outline its exact plans for Virgin. However, the fund has said it will maintain Virgin as a full-service international airline, raising expectations it could relaunch with more workers than Bain, which wants to make Virgin more like a budget carrier such as Jetstar.
Virgin's union representatives are concerned Bain will be a short-term "cut-and-run" investor and are nervous about its record on industrial relations and the reputation of its consultancy arm as a corporate razor gang.
"Bain came through Qantas like a dose of salts in the mid-2000s and the only thing they told them to do was to get rid of staff," said one union figure.
Virgin currently has 132 aircraft. There have been suggestions Bain is considering an operation of about 75 aircraft over the medium term, however, people close to the group said it had not yet decided the appropriate size for the carrier.
Cyrus intends to keep most of Virgin's 75 Boeing 737s for domestic flying but offload its mixed bag of other domestic aircraft types, sources close to their bid have told this masthead. That kind of cost-saving "fleet simplification" was a key part of Virgin chief executive Paul Scurrah's plan for the airline.
Loading
Australian Council of Trade Unions president Michele O'Neil said this week that Cyrus and Bain both had "chequered histories" on workers' rights and that a successful bidder needed to protect as many jobs as possible, safeguard entitlements and secure a viable future for Virgin.
Virgin supported close to 15,000 direct and indirect jobs before it went into administration. Air New Zealand has laid off close to one-third of its workforce since the COVID-19 devastated it and other airlines around the world.
Treasurer Josh Frydenberg said on Wednesday the airline will work through the process with Deloitte and was very hopeful of getting a market-led solution.
"Certainly the large number of interested parties would indicate that that is the case," he said.
Business reporter at The Age and Sydney Morning Herald.
Eryk Bagshaw is the China correspondent for The Sydney Morning Herald and The Age. Due to travel restrictions, he is currently based in Parliament House in Canberra.