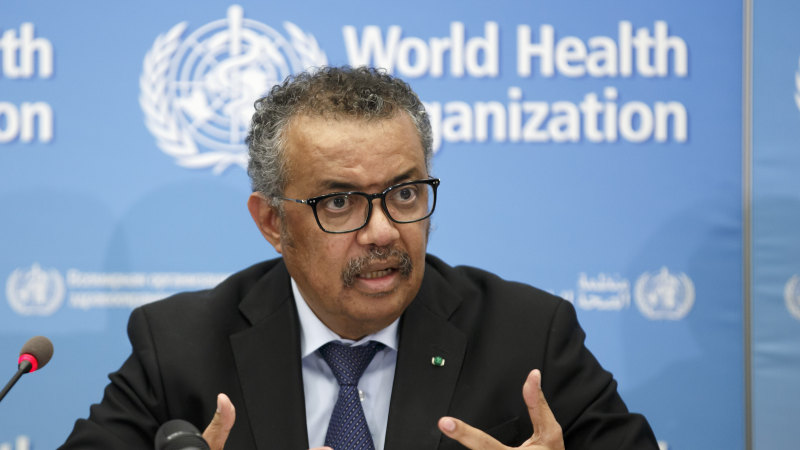 Loading
China's Foreign Ministry spokesman Zhao Lijian said on Wednesday night the claims were "totally untrue".
"China's fight against the epidemic is open to the world, the time and the highlights are clear, the facts and figures are clear at a glance, and they can stand the test of time and history," he said.
Dr Kamradt-Scott, who has worked with the WHO in Geneva and is now at the University of Sydney, said the WHO was the sum of its parts, and many of its problems have been inflicted by its member states.
"They work with what they have got and that can lead to misinformation and inadequate levels of information," he said.
He said WHO Director General Tedros Adhanom Ghebreyesus was a politician who "would learn not to come out and praise members quite so readily before the evidence is clear".
The UN agency has no enforcement powers and cannot independently investigate epidemics within countries.
"In this instance he did got too far by heaping praise on China to keep them on side and sharing information," he said. "It has given rise to so many unnecessary questions about the level of the relationship between the WHO and China."
In Canberra, frustration grew at the WHO's reluctance to declare a pandemic in March after seeing sustained evidence of human-to-human transmission around the world. Mistrust had percolated since the beginning of February when Australia banned visitors from China despite WHO urging countries to keep their borders open.
Australia ultimately pushed for an independent inquiry into the origins of the coronavirus and the role of the World Health Organisation at the World Health Assembly in May.
Loading
Health Minister Greg Hunt said on Tuesday the regional WHO, based in Manila, had done a fantastic job dealing with diseases such as polio, measles and malaria.
"We have our criticisms of what occurred in Geneva. I've made those public. I said those directly to the WHO in the presence of Dr Tedros," he told Sky News. "The WHO at a regional level plays an important part. We're going to be staying within it."
Dr Kamradt-Scott said amid US threats to severe all ties with the UN health authority and cut $US450 million ($693 million) in annual funding, a retreat to regional health bodies would be a dire result for further pandemic prevention. China has since pledged $2.88 billion over the next two years to help the agency and governments globally manage recovery from the coronavirus.
"One of the worst outcomes is if we see governments effectively withdrawing support from headquarters and focussing support on regional offices," said Dr Kamradt-Scott. "When we have a global pandemic that global coordination will not happen."
Eryk Bagshaw is the China correspondent for The Sydney Morning Herald and The Age. Due to travel restrictions, he is currently based in Parliament House in Canberra.