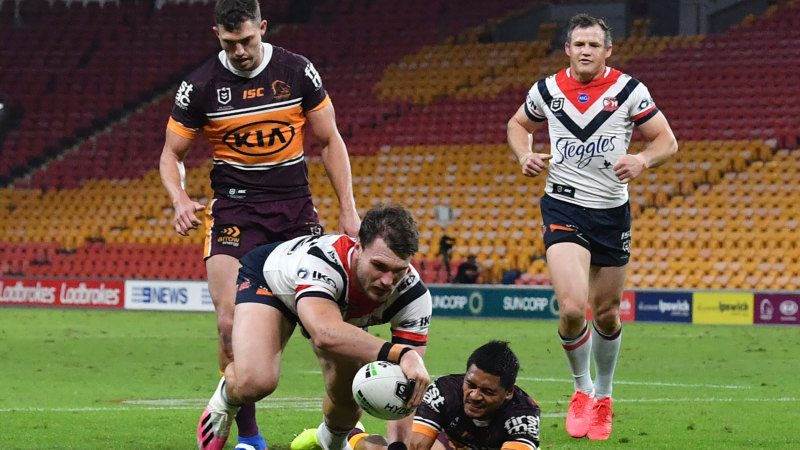 They trailed 29-0 after 40 minutes, their biggest halftime deficit in history, and somehow it managed to get worse. It was truly dire, a far cry from a club that has visions of itself as a perenniel top four contender.
The cardboard cut-outs in the stands would have been as effective as some of Brisbane's defence, especially on the left edge where Darius Boyd and Anthony Milford were falling over each other as Josh and Brett Morris used their telepathic powers to paralysing effect.
It now seems unfathomable that after two rounds, Brisbane were yet to lose and the Roosters were yet to win, to the extent that Nick Politis wanted everyone to start again on zero points. Now they look every bit a team capable of a three-peat.
Everything and everyone worked in perfect unison, and the kind of fast, free football seemingly the new normal under one referee and six-again suits them to perfection. They pounded the middle, smashed the edges, finished with flourishes and Luke Keary conducted it all like it was Beethoven's Third.
The Broncos had managed to win six straight against the Roosters at Suncorp but on Thursday night they would have been happy just to complete six tackles in a set. That was far easier said than done as errors turned into six-again's and ultimately points. Lots of them.
They do have some key players missing, chief among them David Fifita, Kotoni Staggs, Alex Glenn, Tevita Pangai Jnr, but the gulf between their inclusion and a scoreline that reads 59-0 shouldn't be that vast. Anthony Seibold has major issues to address and less time than usual to do it.
It's no exageration to suggest this was the worst night the club has experienced, which was only four games after the worst day in the club's history when they lost 58-0 to Parramatta in the first round of the finals.
They can at least be thankful nobody had to fork out their hard-earned to watch it live. Some of the defensive efforts were diabolical, which points to issues deeper than structural. Given how much of a high they were on after two rounds, it's as puzzling as it is concerning.
Where they go from here is anyone's guess. Some troops will return next week but they have to travel to the Central Coast to play Manly and Tom Trbojevic, who could probably have scored 59 points on his own if he'd been galloping around on Thursday.
Loading
The only downside for the Roosters was the late injury to Victor Radley, who trudged off with an arm problem potentially suffered from an evening cutting Brisbane players in half. He was a menace and deserved to see it out.