That's all for the coronavirus updates blog for today. Thanks for tuning in. As always, the blog will start up again tomorrow at 6am.
If you're just clicking on the blog now though, rather than having to scroll all the way down to the end, here is a summary of today's top updates:
New South Wales' Supreme Court ruled that Saturday's Black Lives Matter protest in Sydney should not go ahead – although large crowds may ignore the order and go anyway.
Victorian Premier Daniel Andrews urged Victorians not to attend a rally planned in Melbourne on Saturday, but organisers of the event urged protesters to take face masks and hand sanitiser, and said community safety was "paramount".
Prime Minister Scott Morrison and federal Health Minister Greg Hunt also urged Australians not to attend Black Lives Matter protests this weekend.
Mr Hunt warned the rallies could endanger Indigenous people if some took coronavirus infections back to remote communities. Indigenous health leader Pat Turner rejected this, saying protesters should take precautions but that the pandemic wasn't a reason to stop people exercising their political rights.
Indigenous academic Marcia Langton said as an Aboriginal woman aged over 50, her elevated risk of becoming sick with COVID-19 was "a risk I'm willing to take" to make a stand against the treatment of First Nations people at this weekend's protests.
From Friday, Queensland restaurants, cafes, pubs and clubs were allowed to open up even further, to more than 20 customers if they have an approved COVID-safe plan. Premier Annastacia Palaszczuk said she was "absolutely delighted" with the change.
A primary school in Melbourne's north closed after a prep student contracted COVID-19, one of three new cases recorded in the state overnight. NSW recorded four new cases.
French troops will not march on Paris' Champs-Elysees avenue on Bastille Day, after the country's president said the coronavirus pandemic meant the traditional military parade would be replaced with a ceremony where health precautions could be observed.
India posted a record jump in coronavirus cases, with its health ministry on Friday saying there had been more than 9800 new cases in the past 24 hours.
The University of Melbourne said it expected to lose $1 billion in revenue from international students over the next three years, with staff being asked to hand back an agreed pay rise to help make up the shortfall.
We'll be back with the blog tomorrow morning.
New South Wales Supreme Court Justice Desmond Fagan has ruled that Saturday's Black Lives Matter protest in Sydney should not go ahead.
In a hearing that stretched for more than four hours, Justice Fagan said the social distancing measures imposed to date have been "the key element" in stopping the spread of COVID-19.
Allowing the protest to go ahead at this time was for this reason "an unreasonable proposition", he found.
Justice Fagan added that many forms of public gatherings had been restricted, including funeral services which loved ones had not been able to attend.
Justice Fagan added the right to gather for such a cause was not being "taken away", but that it was being "deferred".
The judge did not make an order prohibiting the protest, but refused an order allowing it to go ahead, which will have the same legal effect. Protesters may still attend the event, as organisers have foreshadowed, but may now be exposed to criminal sanctions for doing so.
Greens MP David Shoebridge spoke to reporters following the Supreme Court's decision that tomorrow's protest should not go ahead.
"Premier Gladys Berejiklian and Comissioner Fuller, you have now accepted responsibility for this rally," Mr Shoebridge said. "Because by these actions, the organisers can no longer take the measures they had in mind."
NSW Police Assistant Commissioner Michael Willing had asked people not attend tomorrow's protest and said there would be a "significant police resources out."
Fijian Prime Minister Frank Bainimarama says the Pacific Island country has no more active cases of COVID-19.
"And even with our testing numbers climbing by the day, it's now been 45 days since we recorded our last case. With no deaths, our recovery rate is 100 per cent," Bainimarama wrote on Friday on Twitter. "Answered prayers, hard work, and affirmation of science!"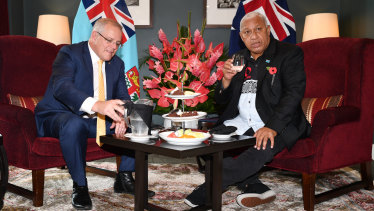 Fiji had 18 confirmed cases of COVID-19 since it was first reported on March 19. The country, which has a population of more than 900,000, last recorded a coronavirus case on April 21.
Earlier, health minister Ifereimi Waqainabete said the last three patients, including a 12-year-old girl, were cleared on Friday morning as being free of the disease. They were all residents of the capital Suva.
Waqainabete said the government had continued testing any and all suspected cases referred to them on a regular basis. "We cannot drop our guard," he said.
About 100 people are still in quarantine facilities, but none has tested positive for coronavirus. Fiji is one of the few countries in the Pacific region which had recorded confirmed cases, unlike its neighbours Tonga, Samoa and Vanuatu.
Fiji has closed its borders to all travellers from abroad but organised rare chartered flights for its citizens. The country still has restrictions on social gatherings of up to 20 people and a nationwide overnight curfew.
AP
India's health ministry on Friday reported another record spike in new coronavirus cases – more than 9800 in the past 24 hours.
India's total number of confirmed cases now stands at 226,770 with 6348 deaths, 273 of them in the past 24 hours, the ministry said. The ministry says the overall rate of recovery for coronavirus patients is around 48 per cent.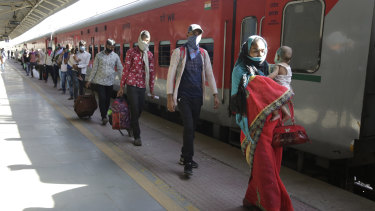 There has been a surge in infections in rural areas following the return of hundreds of thousands of migrant workers who left cities and towns after they lost their jobs following a nationwide lockdown.
The lockdown is now largely being enforced only in high-risk areas known as containment zones.
Train services and domestic flights are partially restored and the government has allowed shops and factories to reopen. E-commerce companies have started to deliver goods, including those considered nonessential, to places outside containment zones.
Metro service and schools and colleges, however, remain shuttered nationwide.
Prime Minister Narendra Modi, meanwhile, announced India was contributing $US15 ($21 million) million to an international vaccine alliance.
AP
New South Wales Supreme Court Justice Desmond Fagan is considering whether to prohibit tomorrow's Black Lives Matter protest in Sydney, and appears likely to block it.
NSW Police is seeking a court order that the protest be prohibited under the Summary Offences Act. Organisers of the event, who are expecting around 5000 to turn up, are fighting the attempt to gain the court order.
Justice Fagan said Australia was in the midst of a "health crisis" and social distancing has been used as one of the most effective means of stopping the spread of COVID-19.
He said people had given up their livelihoods, their ability to worship and more in order to combat the disease.
"I don't see how I can diminish the [police] commissioner's concerns in that way," Justice Fagan said. He said this would not deny but merely defer the protest. Making an order prohibiting the protest would not stop protesters gathering but would leave them open to criminal sanction.
But the barrister acting for the protest organisers, Emmanuel Kerkyasharian, said it was important that the protest went ahead at the same time as in other jurisdictions.
Justice Fagan appeared disinclined to allow the protest on the basis of public health concerns.
Mr Kerkyasharian said banning the protest in Sydney was likely to lead to an increased risk of spreading COVID-19 as protesters who defied the ban would be "corral[led] and push[ed]" together by police.
A ruling in the case is expected shortly.
One of the organisers behind Sydney's planned Black Lives Matter protest on Saturday has told the New South Wales Supreme Court that masks and sanitiser would be provided for "everyone" at the planned rally.
Raul Bassi, secretary of the Indigenous Social Justice Association, gave evidence that the organisers would have 50 marshals "walking around trying to keep people separated".
"They have to walk and keep the people separated. Simple. I think we can do it," he said.
NSW Police is seeking a court order prohibiting the protest under the Summary Offences Act.
Under cross examination by the barrister for NSW Police, Michael Spartalis, Mr Bassi agreed he had no experience organising a protest during the COVID-19 pandemic.
"I don't think anyone has experience of that," Mr Bassi said in response.
He expected about 5000 people to attend the protest.
The court heard NSW Police opposed the protest not only because it breached restrictions imposed to stop the spread of COVID-19, but because of a risk of violence.
Prominent Indigenous academic Marcia Langton says as an Aboriginal woman aged over 50, her elevated risk of becoming sick with COVID-19 is "a risk I'm willing to take" to make a stand against the treatment of First Nations people at this weekend's protests.
Professor Langton told the ABC on Friday afternoon she had been "shocked and dismayed" by the video footage of African American man George Floyd dying after being held down by a police officer's knee, describing the death as "state-sponsored murder".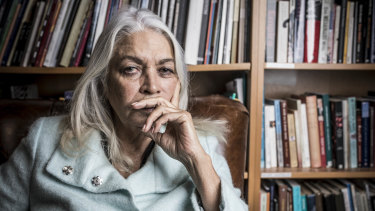 But she rejected Prime Minister Scott Morrison's statement on Friday that Australia "is not like other places", saying the nation's high rate of incarceration of Indigenous people was "a shocking indictment".
Professor Langton said that while the police officers involved in George Floyd's death had been charged, "there have never been any charges in Australia laid against police officers who have been responsible for Aboriginal deaths in custody".
She said while the Black Lives Matter protests posed a risk of coronavirus outbreaks, the government's "completely inadequate" response to the 1991 report of the Royal Commission into Aboriginal Deaths in Custody meant that the demonstrations were needed.
While 56 Aboriginal Australians had tested positive to COVID-19 so far, with no deaths, "hundreds of Aboriginal people have died in custody," she said.
"We have had 432 deaths that we know of and still counting because not all the data before 2008 is available from deaths in custody … I will remind the Prime Minister that the last Minister for Indigenous Affairs refused to put reducing the Aboriginal incarceration rates as a national priority."
She cited the case of the Aboriginal teen allegedly assaulted by a policeman in Sydney's Surry Hills on Monday, after which the constable was placed on restricted duties. "A NSW Police officer slammed a 16-year-old to the ground and caused him injury," Professor Langton said.
"He had to go to the hospital and we're told that we're not normal. We're told not to protest. So, when is an Australian leader, a politician, an elected representative going to commit to us that there will be no more deaths in custody and that they will take measures to prevent deaths in custody? When is that going to happen?"
She said while she understood the concern of medical authorities that the coronavirus could spread quickly through mass gatherings, the protests could go ahead with precautions. "Anybody who is sick or at risk should not go to the demonstrations. Everybody should wear a mask," Professor Langton said.
"Everybody should social distance, 1.5 metres and take sanitiser for hands and follow all the rules scrupulously. We might have to take up many blocks if we're 1.5 metres apart."
Herself being in a high-risk group, she said: "I'll wear a mask. I'll follow the public hygiene rules."
New South Wales' Supreme Court is hearing an application by NSW Police for an urgent order prohibiting Saturday's Black Lives Matter protest in Sydney.
An affidavit by NSW Chief Health Officer Dr Kerry Chant has been tendered in court in support of the police application.
Sydney barrister Emmanuel Kerkyasharian, acting for the protest organizers, is seeking either a court declaration from judge Desmond Fagan that the Police Commissioner Mick Fuller has notified protest organizer Raul Bassi that he does not oppose the protest, or an order allowing it to go ahead.
The law in dispute is the NSW Summary Offences Act, which gives the court the power both to prohibit and allow public assemblies.
Mr Bassi, secretary of the Indigenous Social Justice Association, is currently giving evidence in the witness box.
He has been organising protests for the past nine years and said it was "very important to promote the situation of the Aboriginal people that is continuously ignored".
Dr Chant may be questioned about her affidavit later on Friday afternoon and a decision is expected today.
The court has heard that police received a notice for the protest of about 50 people on May 29, but that this was later modified for almost 5000 people on June 4.
Mr Bassi gave evidence in court that he was "sure" he had later told police that he estimated the protest would attract 4000 or 5000 people.
Indonesia's top diplomat in India is promoting anti-vaccination views on his personal Facebook page, arguing that building physical fitness and immunity is preferable to ward off the coronavirus.
In the post on Tuesday June 2, Sidharto "Arto" Suryodipuro uploaded a photo of himself exercising and wrote "I'll take my chances, I'll rely on building my own immunity rather than be vaccinated for Covid-19 or any kind of other viral infections".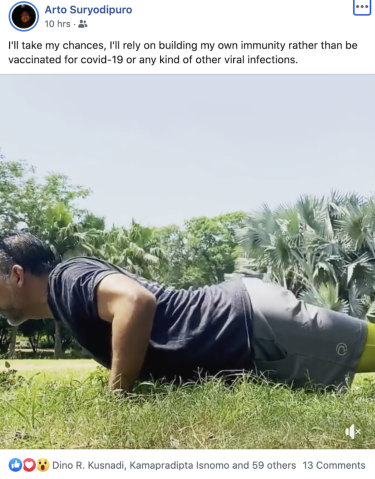 The position of ambassador to India is a very senior position within Indonesia's Department of Foreign Affairs, and Arto has held a number of other senior positions including deputy ambassador in Canberra.
Read the full story here.
Former federal politician Clive Palmer, an advocate for the use of hydroxychloroquine to treat COVID-19, blasted The Lancet for publishing "false information".
The medical journal has retracted an article that reported the drug was associated with a 35 per cent increased risk of serious cardiac side effects.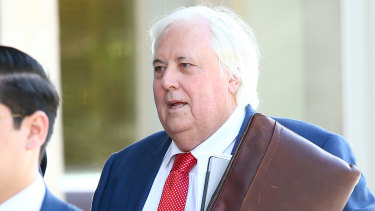 Mr Palmer, who has donated 33 million doses of hydroxychloroquine to Australia's national medical stockpile, accused the publication of allowing itself to be tainted by US political divisions, saying Democrat scientists were "trying to attack Trump" over the President's support for the use of the drug.
The businessman said he had donated the hydroxychloroquine, which he argued was "a cheap, safe treatment" for COVID-19, to ensure Australia would have a reliable supply if the drug proved effective in local trials.