Thanks for reading. This is Matt Bungard signing off. We'll be back tomorrow with more coverage of the ongoing fallout in the United States, and around the world.
This is what you need to know from today:
The mayor of a Southern California city has resigned following an email in which he stated he didn't "believe there's ever been a good person of colour killed by a police officer" locally.
Temecula Mayor James Stewart had apologised on Thursday for the email, saying he never meant to use the word "good".
He said he is dyslexic and so used voice text to send his late-night message onTuesday but failed to notice the added word.
"Unfortunately, I did not take the time to proofread what was recorded. I absolutely did not say that," Stewart told the Riverside Press-Enterprise on Thursday.
"What I said is and I don't believe there has ever been a person of colour murdered by police, on context to Temecula or Riverside County. I absolutely did not say 'good.' I have no idea how that popped up."
Stewart said he was replying to someone "concerned about our police officers and their sensitivity training".
The city issued a press release late on Thursday announcing that Stewart, who was elected to a four-year term in 2016, was stepping down from his post and the city council, news outlets reported.
"You have every right to be hurt and offended. My typos and off-the-cuff response to an email on a serious topic added pain at a time where our community, and our country, is suffering," Stewart said in a statement. "I may not be the best writer and I sometimes misspeak, but I am not racist."
He said he was resigning because he understood his "sincerest apologies cannot remedy this situation".
The initial email came as cities around California were the scenes of large demonstrations over the death of George Floyd, a black man who died last week after a white Minneapolis police officer pressed a knee on his neck. Four police officers have been charged in his death.
Stewart's email message also said that "racism is not excepted or tolerated" in the city or surrounding areas.
"I have several good friends who are African Americans, and they love living here because how safe it is for them and their families," the email said.
AP
French police have banned a demonstration, planned to take place in front of the US Embassy in Paris as protests mount around the world over the death of George Floyd in Minneapolis.
The Paris police department said on Friday it had decided to ban Saturday's demonstrations because of the risks of social disorder and health dangers from large gatherings due to the coronavirus pandemic.
Trouble had broken out on Wednesday at another anti-police demonstration in the French capital. Thousands had turned up despite a police ban on the event in memory of Adama Traore, a 24-year old black Frenchman, killed in a 2016 police operation which some have likened to Floyd's death.
Unrest has broken out across the United States after the killing of Floyd, a 46-year-old African American who died on May 25 after a white policeman pinned his neck under a knee for almost nine minutes in Minneapolis.
Reuters
Tarneen Onus-Williams, an organiser of Melbourne's rally said the NSW decision was "appalling".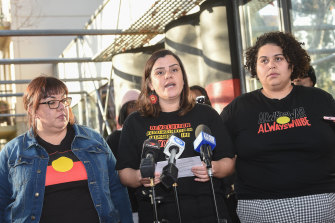 "Considering the NRL is going ahead next week, this has shown that police and government are targeting Aboriginal people," she said.
She said activist group Warriors of the Aboriginal Resistance (WAR) believed the NSW Supreme Court decision was a move to "silence Aboriginal people's voice", and did not accept authorities fears that the protest could result in a spike in COVID-19 cases.
"Not at all, the NRL is opening up next week," she said.
"We're an essential service, saving black lives and protecting black lives is an essential service".
On Friday, Victoria's police force, Premier and Chief Health Officer all asked people not to attend the Melbourne rally, while The Prime Minister and federal Health Minister also urged against taking part in protests across Australia on Saturday.
NSW Supreme Court Justice Desmond Fagan has ruled tomorrow's Black Lives Matter protest in Sydney will not go ahead.
In a hearing that stretched for more than four hours, Justice Fagan said the social distancing measures imposed to date have been "the key element" in stopping the spread of COVID-19, thus allowing the protest to go ahead at this time is "an unreasonable proposition".
Justice Fagan added that many forms of public gatherings had been restricted, including funeral services which loved ones had not been able to attend.
Justice Fagan added the right to gather for such a cause is not being "taken away", it is being "deferred".
Prominent civil rights activist the Reverend Al Sharpton has told mourners George Floyd's fatal encounter with police and the nationwide protests against his death ignited have marked a reckoning for America over race and justice, demanding "Get your knee off our necks".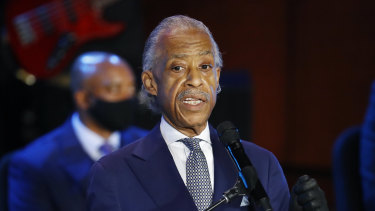 Memorial tributes to Floyd in Minneapolis, where he was killed on May 25, and in New York City's borough of Brooklyn – a major flashpoint for demonstrations – came as protesters returned to the streets of several US cities for a 10th- straight day, including Atlanta, Washington DC, Denver, Detroit and Los Angeles.
The gatherings, while boisterous at times, were for the most part orderly, in contrast to several previous nights punctuated by sporadic arson, looting and clashes between protesters and police.
PA
NSW Supreme Court Justice Desmond Fagan is considering whether to prohibit tomorrow's Black Lives Matter protest in Sydney in court now and appears likely to block it.
He says we are in the midst of a "health crisis" and social distancing has been propounded as one of the most effective means of stopping the spread of COVID-19.
He says that people have given up their livelihoods, their ability to worship and more in order to combat the disease.
"I don't see how I can diminish the [police] commissioner's concerns in that way," Justice Fagan said.
He said this would not deny but merely defer the protest.
Making an order prohibiting the protest would not stop protesters gathering but would leave them open to criminal sanction.
Twitter has disabled US President Donald Trump's campaign tribute video to George Floyd on its platform, citing a copyright complaint.
The clip, which is a collation of photos and videos of protest marches and instances of violence in the aftermath of Floyd's death, has Trump speaking in the background.
Floyd's death last week after a fatal encounter with a police officer has led to nationwide protests. In widely circulated video footage, a white officer was seen kneeling on Floyd's neck as Floyd gasped for air and repeatedly groaned, "I can't breathe," before passing out.
Twitter said the video on the president's campaign account was affected by its copyright policy.
"We respond to valid copyright complaints sent to us by a copyright owner or their authorized representatives," a Twitter representative said.
The three-minute 45-second video uploaded on Trump's YouTube channel was tweeted by his campaign on June 3.
The clip, which is still on YouTube, had garnered more than 60,000 views and 13,000 likes. The video-streaming platform's parent Google did not immediately respond to a request for comment.
The social media platform has been under fierce scrutiny from the Trump administration since it fact-checked Trump's tweets about unsubstantiated claims of mail-in voting fraud. It also labelled a Trump tweet about protests in Minneapolis as "glorifying violence."
Trump has pledged to introduce legislation that may scrap or weaken a law that shields social media companies from liability for content posted by their users.
Reuters
Presumed Democratic nominee Joe Biden said Thursday that 10 to 15 per cent of Americans are "not very good people".
The remarks came when he was taking part in an online forum with black supporters, moderated by the actor Don Cheadle, that discussed racial relations in the aftermath of the death in police custody of George Floyd.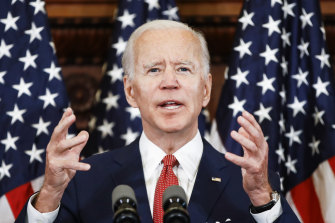 The former vice-president said that President Donald Trump has been a divisive leader who brings out the worst in people, and that "the vast majority" of Americans are decent and want to make the country a better place.
But, he added, "there are probably anywhere from 10 to 15 per cent of the people out there that are just not very good people".
Biden's remarks echoed a widely criticised comment by Hillary Clinton in 2016 that half of Trump's supporters were a "basket of deplorables" who were "racist, sexist, homophobic, xenophobic, Islamophobic – you name it."
Those remarks dogged her during the campaign and were made into a frequent talking point by Trump's campaign.
Bloomberg