"It's no good carrying an extra two or three kilos if they can't get around the park. But everything Gutho does is about energy, and as long as he doesn't lose that. We wouldn't want him much heavier. Where he is now is his ideal weight."
Arthur said the only thing he wanted his 25-year-old skipper to work on was brushing up on his leadership skills.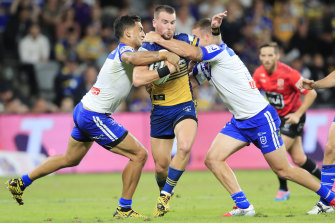 "And he's also getting better at that," Arthur said.
"At the end of last year when we did our review, we spoke about all the good things he did, and the few things we did want him to focus on was more around his leadership and not his actual footy.
"The only way to improve as a leader is to make mistakes and learn from them, not make the same ones over and over. I've made plenty of mistakes, but it's the only way you learn."
Just over 12 months ago Gutherson was on the radar of his former club the Sea Eagles. Several senior players, including his good mate Jake Trbojevic, did their best sales pitch, even though deep down it would take something special to get him to leave the Eels.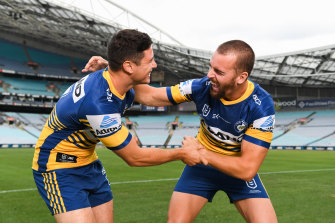 Parramatta eventually stumped up around $2m for a new three-year deal and upgraded the second half of his existing contract last year.
Arthur was aware of the temptation to return home to Manly – Gutherson still resides on the northern beaches – but knew the captaincy and chance to play fullback were too good to refuse.
"We have a strong relationship, I enjoy coaching him, he enjoys playing for this club and the captaincy role, which he wouldn't have got at Manly [behind Daly Cherry-Evans]," Arthur said.
"He also likes playing fullback, and he wouldn't have got that over Tom Trbojevic, which is also understandable.
"He certainly would have helped make them a better football team because he's a good player. But he stayed with us. Being fullback and captain helps."
When NSW coach Brad Fittler was asked during the week about how well Trbojevic and fellow gun No. 1 James Tedesco had performed, he made a point of quickly making mention of Gutherson's form.
"Gutho has been awesome," Fittler told the Herald. "He can play a number of positions, he's very popular and been a part of our [Blues] group for a while now. He's fast, fit and just great company."
Loading
Gutherson told the Herald earlier this year no shortage of his Manly mates sold him the dream of returning to the northern beaches.
"There was always the temptation to go home and play with blokes I grew up with," Gutherson said.
"But I'm so happy I stayed here. This has been home for the last five years. I have another three years here, and hopefully more."
Christian covers rugby league for The Sydney Morning Herald.