Mr Joyce added that as COVID-19 restrictions have eased over the past weeks, there had been a surge in bookings for travel within state boundaries, such as Sydney to Ballina (Byron Bay), Perth to Broome and Brisbane to Cairns, and he expected a further uptick when state borders reopen.
The airline has started increasing domestic flights from 5 per cent of its pre-coronavirus capacity to 15 per cent by the end of June, with the potential for that to hit 40 per cent by late July.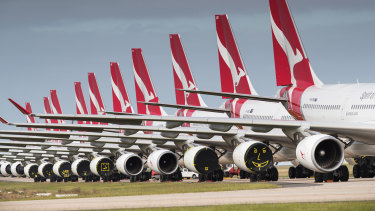 Virgin Australia, which went into voluntary administration in April and is looking for new owners, is flying a network of 75 government-subsidised services a week and is still reviewing how it will ramp up operations.
Mr Joyce said he was hopeful the proposed trans-Tasman "travel bubble" would go ahead and allow people to move between Australia and New Zealand without having to go into quarantine. However, he warned that wider international travel would be some time off and depend on when other countries are able to get COVID-19 under control or when a vaccine is discovered.
Loading
In the meantime, he said there was the opportunity for the $60 billion local tourism industry to "fill the gap" left by foreign visitors with domestic holidaymakers, especially wealthy travellers who would normally go to luxury destinations overseas.
"Now they're looking at where they will travel and I think destinations like Cairns, like Broome will be of immense interest," he said.
Queensland, Western Australia, South Australia, Tasmania and the Northern Territory are yet to announce when their borders will open to interstate travel by non-residents.
Like other airlines around the world, Qantas has been devastated by the coronavirus. However, its investors have been buoyed by news it was preparing to ramp-up its flying, prompting Qantas' share price to rise more than 16 per cent this week to a three-month high of $4.66. The stock started the year at $7.16.