The U.S. meat industry crisis that saw thousands of sick workers, surging prices and grocery-store shortages is leading half of Americans to consider plant-based options, new research shows.
A poll taken By Rethink Priorities in conjunction with the Humane Society of the United States at the end of May found that 52 per cent of respondents think the food industry should focus more on meat-free foods to help reduce shortages.
The survey of 998 people also found that half of respondents don't think the meat industry cares about the health of its workers, and 65 per cent don't think it cares about the treatment of animals.
"Covid-19 is shining a light for consumers to start evaluating their own choices and whether or not they want to continue to buy meat," said Josh Balk, vice president of farm animal protection for the Humane Society.
Plant-based proteins are already seeing a pandemic bump after coronavirus outbreaks forced closures at some of America's largest packing plants. Soy-based burger maker Impossible Foods Inc. and pea-based meat imitator Beyond Meat Inc. have spread into grocery stores across the U.S., and buying of meat alternatives had tripled from a year earlier in the eight weeks ended April 25, according to Nielsen data.
Faux meat had already catapulted to the zeitgeist last year, captured in the blistering initial public offering for Beyond Meat. More Americans have dubbed themselves flexitarians — people who regularly substitute other foods for meat — and vegan products have shown up on menus of nationwide chains including TGI Fridays. Even traditional giants like Tyson Foods Inc. have move toward offering alternatives.
Even then, meat demand remains strong, said Sarah Little, spokeswoman for the North American Meat Institute, which represents companies that process 95 per cent of America's red meat. Despite tight supplies and purchase limits in place for popular cuts, sales volume grew 5 per cent for the week of May 24 compared with a year earlier, according to data from researcher IRI.
Still, the pandemic has highlighted longstanding issues in the country's food-supply chain that many people are seeing for the first time, Balk of the Humane Society said. That is prompting consumers to look for alternatives to industrialized meat, he said.
There have been at least 44 meatpacking worker deaths and more than 3,000 workers tested positive for Covid-19, according to estimates from United Food & Commercial Workers International Union. The slowdowns in processing also led to the largest pig culling effort the U.S. has ever seen as hundreds of thousands of animals were backed up on farms.
Bloomberg
Shut down since March, its dutiful citizens forgoing funerals and fun, Melbourne public life returned on Saturday with a jolt, a cry, a three-word call: Black Lives Matter.
It began with a tribute to the spirits watching on, a reverent farewell to lives violently ended.
From closed-off living rooms and home offices, to thousands of feet stamping on Spring and Bourke streets in the rhythm of a beating heart and a mournful Kulin Nations song.
People at the protest core looked behind them then, because so far did the crowd stretch on Spring Street that by the time the beats and claps returned from the outer reaches it sounded as though a march had already begun.
with Rachael Dexter
Foundation player and soon-to-be life member Phil Davis says Greater Western Sydney have never been better placed to challenge for the flag, and dismissed fears the club could become a victim of the coronavirus-induced financial crisis.
As the competition deals with cost-cutting measures that have seen football departments slashed and mass stand-downs of staff, Davis said having two teams in NSW and Queensland was vital to the code remaining the biggest in the land.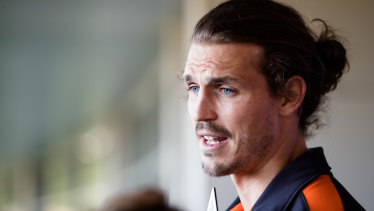 The Brisbane Lions gave a moving kneeling tribute.
The AFL has said all 18 sides will come through the pandemic but doubts have been raised by some club presidents on the survival of every team.
Star Melbourne winger Suliasi Vunivalu says he will seek reassurance about his contract ahead of his code switch to financially stricken rugby union and try to remain with the Storm if it falls through.
Vunivalu is set to leave the Storm at the end of the NRL season after signing a deal with Queensland Reds and Rugby Australia late last year he described as "too good to refuse".
But Rugby Australia has since fallen into a financial black hole, with a number of players looking to shift overseas as they seek some job security.
Reds trio Izack Rodda, Harry Hockings and Isaac Lucas sought early releases from their deals last month while Australia's players are on an average 60 per cent pay cut across the board until September 30.
AAP
Our picture editors have put together a gallery of some of the best pictures from around the world this week.
You can view the gallery here.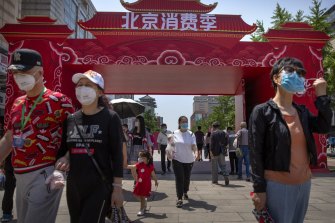 Indira Naidoo,television and radio host
What I'm watching: A comedy drama on Netflix called Never Have I Ever. It's about the life of a first-generation Indian-American teenager. It was written by Mindy Kaling; she's Indian-American and this is roughly based on her childhood. Obviously with my background being Indian, though Indian-Australian, there are so many commonalities that [the main character] Devi goes through about how to adjust to a different culture that I experienced as well. You'll see bits and go, 'Yeah, that happened with our aunties, that was when my parents made me wear a sari when I thought they were naff.' There are lots of lovely things that I can relate to, but I also think it's just a really engaging, funny, quirky series.
Indonesia has recorded its largest single-day rise in new coronavirus infections, with 993 new cases reported on Saturday and 31 new deaths.
This is the third time the country has recorded more than 900 cases in a single day. The overall number of infections has now reached 30,514 people, the death toll has now reached 1,801 and 9,907 people have recovered from the disease.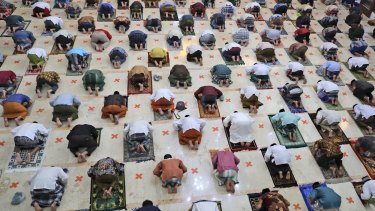 The new record high in cases comes as the country begins easing lock down restrictions and restart some sectors of the economy.
Mosques, churches and other houses of worship began to re-open on Friday in the capital of Jakarta and limited services have resumed on the city's MRT underground train line.
Other social restrictions are also being eased under plans for a "new normal" regime that will allow businesses to re-open as long as health rules are followed.
However, in the last two weeks the country has recorded fewer than 500 new daily cases just three times.
While testing rates have improved and President Joko Widodo's goal of 10,000 tests per day has been met and surpassed – 13,095 tests were performed on 7930 people according to the daily update – the country still lags well behind neighbouring countries.
Overall, 394,068 tests have been performed on 264,740 people – a relatively small number for a nation of nearly 270 million people.
Australia has performed more than 1.5 million tests on a population of 25 million people, in comparison while Singapore has performed 408,495 tests and 5.6 million people and Malaysia has done 462,257 tests on 31 million people.
More concerning is the fact that the percentage of positive tests returned is a relatively high 11.5 per cent.
Health Ministry spokesman Achmad Yurianto urged Indonesians at his daily briefing to "adapt to the protocols. Stay indoors as much as possible, wash your hands as often as possible, observe physical distancing, avoid crowds. Let us protect our families, our cities, our nation".
"We have to understand that the vaccine we and the whole world hope for is not available yet. It's not clear when a vaccine can be mass produced to provide us all with immunity against the virus. While waiting we have to adapt and change our way of life," he said.
The highest number of cases reported on Saturday was 286 in East Java province, which is home to the country's second largest city, Surabaya. Jakarta, the epicentre of the virus outbreak, reported 104 new cases.
Indonesia reported on Saturday its biggest daily rise in coronavirus infections, with 993 new cases, taking its total number to 30,514, a health ministry official said.
The official, Achmad Yurianto, reported 31 new deaths related to COVID-19, taking the total number of deaths in Indonesia to 1,801.
Reuters
Note: We will have more Indonesia coverage coming later this evening.
DUBAI: A wedding party contributed to a new surge in coronavirus infections in Iran, President Hassan Rouhani said on Saturday but insisted the country had no option but to keep its economy open despite warnings of a second wave of the epidemic.
Iran, which has been gradually relaxing its lockdown since mid-April, has reported a sharp rise of new daily infections in recent days. Thursday's toll of 3,574 new cases was the highest since February, when the outbreak was first reported.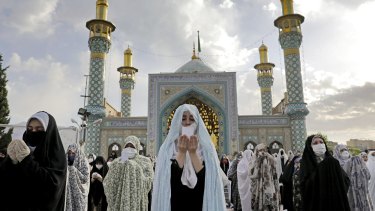 "At one location, we witnessed a peak in this epidemic, the source of which was a wedding that caused problems for the people, health workers and losses to the economy and the country's health system," Rouhani said on state TV. He did not say when or where the wedding took place.
New cases dipped to 2,886 on Friday, bringing Iran's total cases to more than 167,000, with over 8,000 deaths.
Health officials have been warning of a second wave of the outbreak, but say a reason for the surge in new cases could be wider testing. One official said about 70% of the new cases in Tehran were among those who had travelled outside the capital in recent days.
Iran has been struggling to curb the spread of COVID-19 but authorities are concerned that measures to limit public and economic life to contain the virus could wreck an already economy already reeling under international sanctions.
"In these circumstances, we have no other choice – that is, there is no second option," Rouhani added. "We have to work, our factories have to be active, our shops have to be open, and there has to be movement in the country as far as it is necessary."
Iranian universities reopened on Saturday after being closed for more than three and a half months, state media reported.
Nurseries will reopen in a week's time, when Koran and languages classes will also resume, Rouhani said
Reuters