Thank you for joining our rolling coverage today, as tens of thousands of Australians took the streets, defying coronavirus restrictions, to show solidarity for the Black Lives Matter movement and call for an end to Aboriginal deaths in custody.
Nothing was going to stop Sydneysiders rallying for Aboriginal rights but an appeal court's last-minute approval certainly helped.
At least 15,000 people, many wearing masks, were already gathered in front of Sydney Town Hall on Saturday when the Court of Appeal declared the 'Stop All Black Deaths in Custody' rally an authorised public assembly.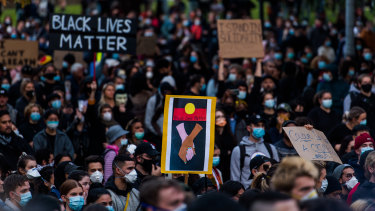 The decision, overturning a Supreme Court ruling on Friday night, gave protesters immunity from arrest for blocking roads along the planned route from Town Hall to Belmore Park.
Tense scenes unfolded at Sydney's Central Station after the main march ended, with police using pepper spray to disperse up to 100 remaining protesters.
In Melbourne, event organisers were happy with the numbers and the peaceful nature of the protest, but they still each face a $1652 fine from Victoria Police for organising a gathering in breach public health orders.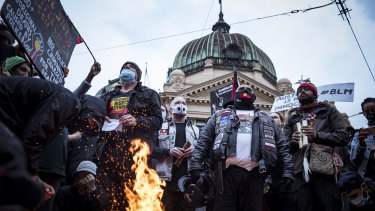 Victoria Police Assistant Commissioner Luke Cornelius said he was pleased with the crowd's peaceful behaviour but he was worried that people had gathered in such large numbers in breach of the State of Emergency rules and in defiance of warnings to stay away.
"While the Black Lives Matter protest was held in breach of the Chief Health Officer directions, police were generally pleased with the behaviour of those who came into the city to protest today," he said.
"We remain concerned that such a large gathering has occurred without regard for the need to maintain social distance and will now consider what action should be taken in relation to the organisation and conduct of this unlawful gathering."
In Brisbane, police estimated 10,000 people joined a peaceful protest, wearing masks and holding 'Black Lives Matter' placards. Many wrapped themselves in Indigenous flags, calling for an end to police mistreatment of indigenous Australians.
with Noel Towell, AAP
As thousands marched in Australia today, so too did people in Tokyo and Seoul.
In Tokyo, marchers protested against what they said was police treatment of a Kurdish man who says he was stopped while driving and shoved to the ground, leaving him with bruises.
Organisers invoked the US protests, saying they were also marching in support of the Black Lives Matter movement.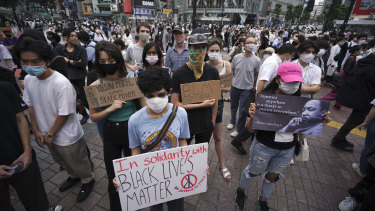 "I want to show that there's racism in Japan now," said 17-year-old high school student Wakaba, who declined to give her family name.
She and her friend, Moe, marching in their school uniforms, held a sign saying: "If you're not angry, you're not paying attention".
"No justice, no peace, no racist police," the crowd chanted.
In Seoul, dozens of South Korean activists and foreign residents gathered, some wearing black masks with "can't breathe" in Korea, echoing George Floyd's final words as he lay on the pavement. Others participated in an online "viral photo protest."
"South Korea is becoming a multicultural society," organiser Shim Ji-hoon told Reuters. "So I proposed this march to have awareness of racial discrimination and make a world of living together."
With pandemic restrictions in Bangkok, activists were going online, asking for video and photos of people wearing black, raising their fists and holding signs, and explaining why they "stand united behind Black Lives Matter".
The Thai protesters plan to gather on the video-meeting platform Zoom on Sunday and observe 8 minutes 46 seconds of silence – the period that George Floyd was filmed pinned under the officer's knee.
Reuters
It's currently midday on Saturday in Paris and police have banned a third Black Lives Matter protest.
Protesters were planning to march for the third time in Paris this week to condemn police abuses in the wake of George Floyd's death.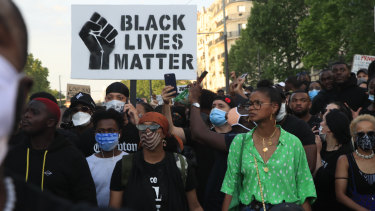 The rally, planned for Saturday afternoon, was due to take place in the shadow of the Eiffel Tower.
But police issued a decree banning the march, citing a risk of spreading COVID-19 and fears of public unrest. The police decree noted that Paris' social distancing regulations currently ban gatherings of more than 10 people.
Police had already banned two other protests planned for Saturday outside the US Embassy.
AAP
Former Queensland premier Campbell Newman says the protests across Australia today show the ongoing coronavirus restrictions are no longer needed.
"If we can have this protest then there is no justification for the ongoing (illogical) restrictions on our lives. I bet the protesters' details weren't recorded as would be required at any pub, club, restaurant or gym," he wrote on Twitter.
Other politicians have been treading a more delicate path.
Opposition Leader Anthony Albanese said: "I support the right to protest but I also support making sure that we don't have a second wave, we need to be very conscious about health outcomes.
"You don't want people going to a protest and getting sick as a result of it, you don't want also there to be an outbreak and for that to spread around."
Liberal backbencher Jason Falinski agreed.
"The concern here is one of health and it is applying the health orders to all people and to all events equally and there has to be equality in the way that the law is applied," he told ABC television.
with AAP
Herald reporter Caitlin Fitzsimmons tells us the remaining protesters at Sydney's Central Station have dispersed.
Anita Antonio, 16, from Parramatta said she was among the protesters pepper-sprayed at Central Station.
She was with a group of protesters who left Belmore Park when the protest finished and tried to head towards Victoria Park in Camperdown.
She said the crowd pushed them forwards into a police line on Eddy Avenue and the mounted police then surrounded them and pushed them into the station.
"We didn't even do anything wrong and they pepper-sprayed us, 20 of us down at the station," she said. "I am [in a lot of pain] – my face hurts."
Up to 100 protesters in the station were hit with pepper spray, after the main march in Sydney dispersed.
NSW Police have confirmed three people were arrested in Sydney earlier this afternoon, all before the rally officially began.
Assistant Commissioner Mick Willing said there was "minimal disruption" at events in Sydney, Newcastle, Byron Bay, Lismore, Coffs Harbour, Port Macquarie, Wyong, Wagga Wagga and Broken Hill, which were "essentially peaceful".
"Initially, we had a tough job in Sydney as the police operation was already underway when the Supreme Court decision was overturned, but we rapidly changed plans to ensure the event would run smoothly," Assistant Commissioner Willing said.
Police said a 23-year-old man and 15-year-old boy were involved in a "physical altercation" at Town Hall station at about 2.20pm, on their way to the protest, so they were arrested.
The older man was tasered after he allegedly became aggressive towards officers, police said. He was taken to hospital and is expected to be charged with affray, while the teenager was cautioned.
A 51-year-old man was arrested at about 2.30pm for an alleged breach of the peace, however he was released and no further action is expected to be taken.
"Some 20,000 protesters turned out in Sydney today, and to only have three arrested is a really positive result," Assistant Commissioner Willing said.
According to witnesses and video footage, additional arrests were carried out following the rally when most of the demonstrators had dispersed.
This footage is just in from the Nine newsroom, showing the scenes that unfolded at Sydney's Central Station as police tried to disperse a small group of remaining protesters.
There are about 50 to 100 young protesters, both Indigenous and non-Indigenous, inside the gates of Sydney's Central Station banging on the metal and yelling "all cops are bastards".
The small group of demonstrators remain at the station after a day of otherwise peaceful protesting.
A woman is yelling that the protest was meant to be peaceful and the police turned it violent by using pepper spray, our reporter Caitlin Fitzimmons tells us.
Legal observer Jarrod Diamond confirmed police used pepper spray against the crowd inside the station, including minors. He has video footage.
He and several other legal observers said the pepper spray came before police issued a formal move-on order over a loudspeaker. However, it is unclear if there individual move-on orders before that.
We have more images from Herald photographer James Brickwood at Central Station, where police have pepper-sprayed protesters.
The small group of protesters remained at Central Station after the main march dispersed.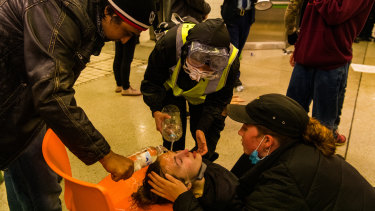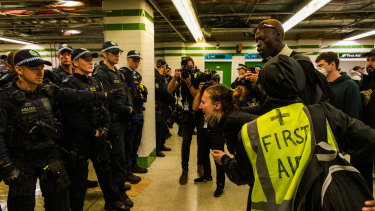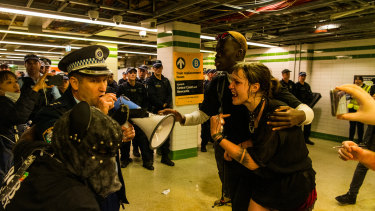 Ry Atkinson, an observer with Amnesty International, has told Herald reporter Caitlin Fitzsimmons that he saw a young couple and a young man being arrested near Sydney's Central Station.
The few arrests came after a long day of peaceful protests.
"It was a young couple, pretty much at the start of Eddy Avenue … they were pushed around, shoved, thrown to the ground. And then we got pushed back and so we didn't see anything after that," he said.
He later saw another young man being arrested by officers, after a group of protesters heading for Victoria Park were surrounded by police at the train station.
"Police quickly formed a line, forced us behind and just started pushing forward and encircling everyone, slowing pushing everyone back … back into the station."
We have images coming in from Herald photographer James Brickwood showing police trying to disperse a lingering group of protesters at Central Station with pepper spray.