Giants membership passed 30,000 for the first time last season and was on track to reach the figure again this year before the onset of COVID-19.
Davis said he had noticed a dramatic growth in the sport in his near nine years living in Sydney.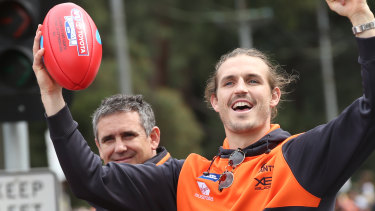 "I don't draw into any of those discussions about 'would we be a club that gets cut?' I don't see the AFL not being 18 clubs," he said.
"I see the AFL still being a two-team town in Sydney and a two-team town in Queensland. For me, I don't buy too much into that. Everyone has had a lot of spare time on their hands. There's been a lot of different theories and opinions getting thrown around from different people.
"If you're fundamentally looking at the game and what we're trying to do, you either have to make a decision that we've capped out and how much we can grow.
"But if you want the game to grow and be national and the biggest code, you have to tap into NSW and Queensland."
The Giants are expected to challenge for this year's flag when the season resumes this week.
Jeremy Cameron, Stephen Coniglio, Lachie Whitfield, Josh Kelly, Toby Greene and Nick Haynes from the 2011-13 drafts are in their prime years. The next wave of Tim Taranto, Jacob Hopper and Harry Himmelberg have served their apprenticeships and are ready to shape the club's future.
Loading
"I'm very bullish on the list we have. It's a very talented list but I think it's actually a more rounded list than we've had for a few years," Davis said.
"I don't think we've ever been in a better position. I feel we're very stable there and that's exciting."
Davis qualifies for life membership when he lines up for his 150th game for the club next Sunday, against North Melbourne. He is the third Giant to reach the milestone, behind the man he shared the captaincy with, Callan Ward, and Cameron.
"It's a lot of times to be able to put on the guernsey, which has been a great privilege and a great honour," Davis said.
"I'm really excited to play some more and hopefully play in big games in finals. That's what it's all about. It's been pleasing to see the club go from our first ever loss all the way back in round one, 2012, to where we are going into round two, 2020."
Andrew Wu writes on cricket and AFL for The Sydney Morning Herald