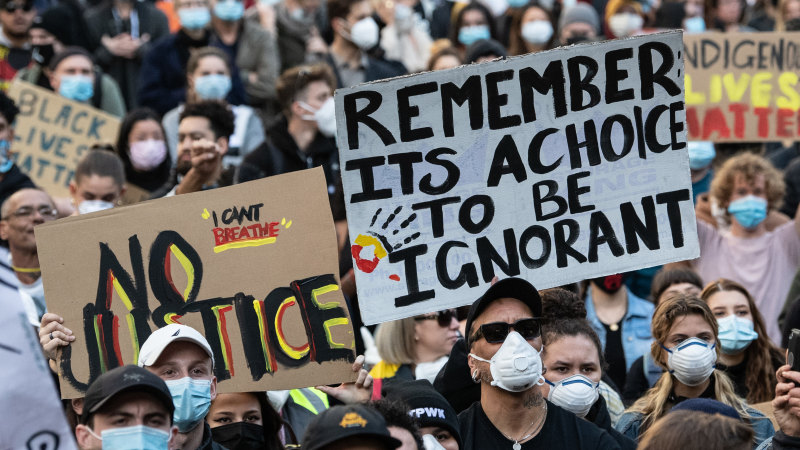 "There is no current recommendation that people who attended those mass gatherings should do anything different. In fact, do exactly the same thing – which is get tested if they become unwell," he told reporters in Canberra.
Loading
Dr Coatsworth said it would be weeks before authorities would know if the rallies had sparked a wave of infections, but the Australian health system was prepared for an outbreak.
He reiterated the AHPPC position that mass gatherings such as protests still posed "a substantial risk … even with the low numbers of COVID-19 that we see in the community", acknowledging that research showed infectious droplets could be pushed further by people who shouted.
Asked if state governments could be forced to reintroduce tough lockdown measures as a result of the protests, he said: "That depends entirely on how many cases emerge."
Dr Bartone said the protests, which attracted tens of thousands of people in Sydney and Melbourne and thousands in smaller cities, took place "in defiance of the public health warnings".
"Any mass gathering of that size, regardless of the cause … has the potential to put the community at risk," he said.
The issue has divided activists, who have taken to social media to debate whether protesters should be treated any differently to Australians returning to restaurants, bars and shopping centres.
National Aboriginal Community Controlled Health Organisation chief executive Pat Turner, who supported the rallies, said those who attended should "take every precaution they can in terms of practical measures to protect themselves and their families".
But she acknowledged this might not be practical for everybody who attended a rally, saying activists should do what they could in their individual circumstances.
"I'd hope that people are very sensible," Ms Turner said, saying those who could work from home should consider doing so.
The Victorian Aboriginal Community Controlled Health Organisation posted an image on Facebook after Melbourne's rally on Saturday with the message: "Don't forget to self-isolate for 14 days if you've been to a civil rights protest."
The post also advised protesters to "wait for a less crowded train, tram or bus going home [and] keep your masks on until you get home" and "consider getting tested as a precaution".
But VACCHO chief executive Jill Gallagher told The Age and The Sydney Morning Herald on Monday she did not think it was necessary for protesters to go into strict home quarantine unless they fell ill.
Loading
"If you're going to the pub with 50 people, would you need to self isolate?" she said.
Ms Gallagher said it was a personal decision whether protesters avoided visiting elderly relatives.
"I wouldn't want to risk it; I haven't seen my mum, she's in an aged-care facility," she said. "If you visit the elderly, you should practice distancing – no hugging, no kissing – and use hand sanitiser."
University of NSW infectious diseases expert David Muscatello said while testing could pick up the infection in people without symptoms, it could only do so once the virus had incubated – a process averaging four to seven days but that can take up to two weeks.
"We all need to be cautious and monitor the statistics over the next few weeks," he said.
Dr Coatsworth said while he understood why the protests "might frustrate" Australians who questioned why they could go ahead while football fans could not go to a game, there were some "substantive differences".
"I would point out perhaps we don't have protests on every Friday and Saturday night of the footy season," he said.
Dana is health and industrial relations reporter for The Sydney Morning Herald and The Age.