"That's why sadly, tragically, the City of Melbourne has the second-highest levels of heroin-related deaths on its streets behind the City of Yarra."
Loading
The Department of Health and Human Services had been scouring sites for two weeks before the government announced it had identified Cohealth Central City, opposite the Queen Victoria Market, as the site of a new safe injecting facility.
Cr Capp said it "doesn't seem obvious" why the site was chosen.
"Well, it's our fastest-growing neighbourhood in terms of residents, and that includes a lot of international students," she said.
A residential building adjoining the proposed facility includes affordable housing and a number of residents who are transitioning from homelessness.
"Look, we're a big enough municipality to think that we can find an appropriate site," Cr Capp said.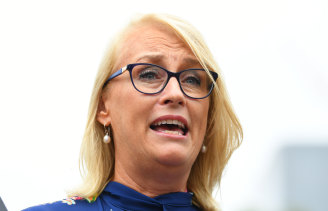 "It's just that we'd like to be involved in that discussion, we want to be able to represent the best interests of our community."
On Friday, Premier Daniel Andrews said the site of the second facility had been chosen because the City of Melbourne had recorded 51 public overdose deaths between 2015 and 2019, second only in the state to the City of Yarra, which recorded 93 deaths.
"This is very important because it will save lives," Mr Andrews said. "I am convinced of that."
Plans for a new injecting room come after a two-year review of the service found the North Richmond centre had safely managed 3200 overdoses and saved "at least" 21 people's lives since it opened.
There have been an estimated 119,000 visits to the centre and 271 "extremely serious" overdoses, none of them fatal.
The review – led by Professor Margaret Hamilton, an executive member of the Australian National Council on Drugs – was expected to consider whether to extend the trial for another three years or to close the centre.
Loading
But Professor Hamilton recommended the government open a second facility, given the overwhelming demand at the centre at North Richmond.
Mr Foley did not directly answer questions on Monday about why he had not brought the City of Melbourne into the search for a new site, but said he had told Cr Capp of the plans shortly after the plan was signed off by cabinet on Thursday.
The extent to which injection facilities were used was highly dependent on their location, Mr Foley said, and it was important the facility be close to places drugs were purchased and close to services.
"This is about getting on and saving lives and making sure that we deliver this facility in a location that is already providing alcohol and drug services to Victorians who need it, so as to make sure that the 50-plus lives that are lost in miserable circumstances on the streets of Melbourne is stopped."
Bianca Hall is City Editor for The Age. She has previously worked as a senior reporter, and in the Canberra federal politics bureau.