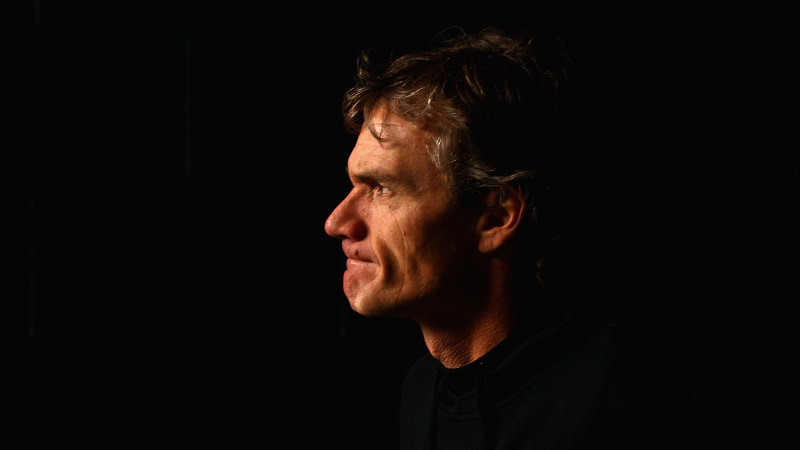 When magistrate Kieran Gilligan set the new date of December 14, he asked if it should be set as a plea hearing.
Mr Stary replied "not yet", but then said he was in talks with police about finalising the case.
"There's just one discussion that we still need to have. But we're envisaging that we will on that day, though, your honour," Mr Stary said.
"But I expect everything to be resolved by that point."
Police allege that between April 4 and May 2 Mr Laidley tried to contact the woman more than 100 times in phone calls, voice and text messages and emails, and that he also took photographs of her home and her car in an underground car park.
Police also allege that on April 4 Mr Laidley was verbally abusive and aggressive and called the woman a "slut" and a "c—" and also said, "I am going to ram you with the car when you leave."
Mr Laidley was allegedly found in possession of 0.43 grams of a substance investigators believe is methamphetamine and was concealed in a bra Mr Laidley was wearing.
Photographs showing Mr Laidley wearing a woman's wig and make-up while being interviewed by officers inside a police station are the subject of a separate investigation.
Four officers have been suspended, and could be charged, over the alleged leak and distribution of the photographs, which were shared on social media and published by some news outlets. Victoria Police declined to comment on Tuesday as the matter was still an active investigation.
On May 11, Mr Laidley was granted bail to stay at a rehabilitation clinic after the court heard he had problems with mental health, substance abuse and gender dysphoria.
Mr Stary said on Tuesday the former West Coast and Kangaroos player had undergone "intensive therapy and counselling" at the facility, and it was expected he would stay there for up to another two weeks. He would then likely spend two months in transitional housing.
Mr Gilligan varied bail so Mr Laidley could stay at the rehabilitation clinic and then move into the housing. The magistrate reiterated his warning from a month ago that Mr Laidley would have his bail revoked if he breached any court orders.
"I explained to him at the time that if he did commit any breaches the likelihood of getting bail again would be remote," Mr Gilligan said.
Mr Stary replied, "He understands that well and truly, your honour."
Police say Mr Laidley and the woman were involved in a financial dispute.
A group of high-profile AFL figures, including former coaches Denis Pagan, Guy McKenna and Mark Williams, have previously written character references for Mr Laidley, along with former North Melbourne teammates Wayne Schwass and Brent Harvey, and former club chairman James Brayshaw.
Adam Cooper joined The Age in 2011 after a decade with AAP. Email or tweet Adam with your news tips.