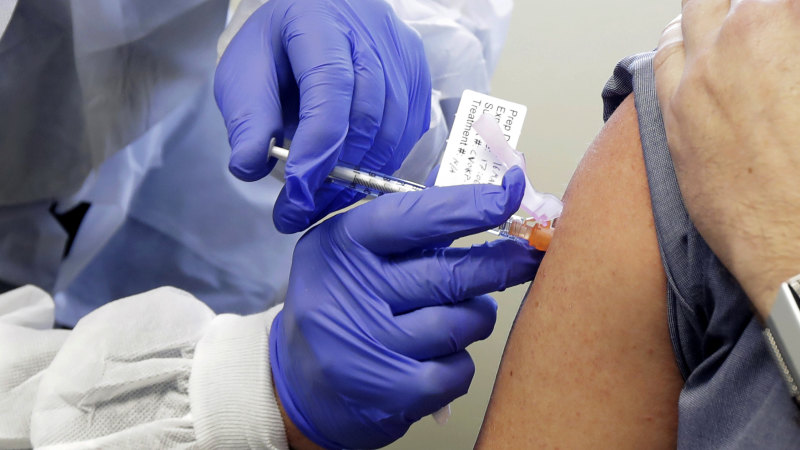 Morningstar equities analyst Nicolette Quinn said she did not think the successful launch of a vaccine would automatically boost profits for companies, such as CSL, involved in the process.
Loading
"I'm not attributing a lot of commercial value to the product."
A successful vaccine or treatment would need to be distributed according to humanitarian need and is unlikely to automatically boost bottom lines, she said.
UBS equities analyst Saul Hadassin said the process of producing a vaccine would involve a cross-border effort, with many organisations working together.
Even if Australia was successful in the race the find a treatment, that doesn't mean an immediate impact on local share prices, he said.
"There is a role to play in terms of having vaccine production facilities here. But as per CSL's release last week, on a larger scale it's going to require agreements with larger partners should the UQ vaccine be efficacious. CSL won't be in a position to produce it globally," he said.
While individual treatments are unlikely to elevate companies, it is hoped that the healthcare sector will boom on the reopening of the economy, he said.
"None of the Australian healthcare stocks we cover stand to directly benefit from the vaccine itself, however, as the economy opens up and consumers get back to consuming normal health care services, they will indirectly benefit."
In the same way that government shutdowns have affected the hospitality and retail sectors, healthcare stocks, from hearing implant makers to pathology operators, have been hit hard in recent months.
The shutdowns have meant a reduction in elective surgery procedures and health checks which do stand to bounce back if treatments mean the economy can return to business as usual, analysts believe.
Last week the equities team at Macquarie wrote that while there are still large unknowns for the sector, it did appear that an easing of lockdowns was putting operators in a better position moving forward.
"While trends within pathology are yet to be quantified, we see scope for improved activity
heading into the first half of 2020-21," the equities team wrote when reflecting on Sonic Healthcare's recovery. 
The ASX 200 health care is up by 0.5 per cent to 40,787 points so far this year, compared to the overall market, which is still down 8 per cent since January.
Emma is the small business reporter for The Age and Sydney Morning Herald based in Melbourne.