"At another time, there would be hundreds and hundreds of people there,'' she said. "It is very important that Shirley gets the respect she deserves. She deserves a big funeral.
"There is going to be a football match on Thursday night. There are going to be men running around, jumping on one another. I just think it is all bullshit."
In a letter to Health Minister Jenny Mikakos and Aboriginal Affairs Minister Gabrielle Williams, the co-chairs of the Victorian Traditional Owner Land Justice Group asked for an exemption from the state's COVID-19 restriction on funeral sizes to enable people from Fitzgerald's traditional clans in Melbourne, Gippsland and the south coast of NSW to attend.
The exemption was sought on cultural and compassionate grounds.
The petition referenced a section within Victoria's Charter of Human Rights and Responsibilities which recognises that Indigenous people have distinct cultural rights and cannot be denied the right to enjoy their identity and culture or to maintain kinship ties.
In response, a Department of Health spokesperson acknowledged that "funeral services are critical to Aboriginal people's spirituality and form part of Aboriginal people's cultural identities'' and that the limit on mourners "may inadvertently impact upon Aboriginal people's culture and practices''.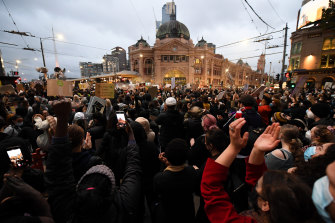 But the department refused to grant an exemption for the funeral, saying none were allowed under the direction issued by Chief Health Officer Brett Sutton.
"It is essential that Victorians practice social distancing to stop the transmission of COVID-19 in the community,'' the spokesperson wrote.
The department response was written two days after tens of thousands of people jammed Melbourne's streets for a Black Lives Matter protest.
Ms Scerri said her sister was well known in Fitzroy, where their family home served as an "open house'' for the local community.
"Lots of people within the Aboriginal community met there and every young girl in Fitzroy went to Shirley for advice and protection and love,'' she said.
Elizabeth Fitzgerald, born in 1939 as Elizabeth Youth, was also renowned for her singing voice.
Loading
She once performed at the Sydney Opera House and used to sing regularly at St Mark's church, which is where she was married.
"She had the most loving, kind, heart," Ms Scerri said.
"She never turned anybody away, she never knew colour."
Ms Scerri said the church was large enough to enable 100 people to safely social distance and questioned why funeral numbers were still being restricted when crowds were returning to shopping centres and other public places.
Get our Morning & Evening Edition newsletters
The most important news, analysis and insights delivered to your inbox at the start and end of each day. Sign up here.
Chip Le Grand is The Age's chief reporter. He writes about crime, sport and national affairs, with a particular focus on Melbourne.