The claim filed in the Supreme Court of Victoria is seeking compensation for injuries Mr Dimopoulos sustained because Victoria Police "did assault, batter and falsely imprison [him]" and failed to "exercise reasonable care" for his safety.
The amount of damages being sought is not specified. Mr Dimopoulos' solicitor, Jeremy King, declined to comment.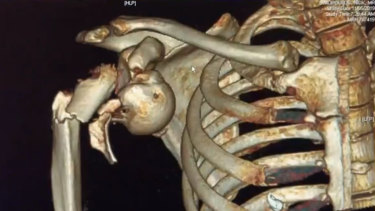 The lawsuit comes after an Independent Broad-based Anti-corruption Commission report in April cleared Victoria Police of any wrongdoing despite the botched raid and injuries caused to Mr Dimopoulos.
IBAC commissioner Robert Redlich found officers of the elite Critical Incident Response Team had "reasonable grounds" at the time to raid the property despite it ultimately being the wrong location.
"IBAC found the force used by police in restraining Mr Dimopoulos was not disproportionate to the officers' objective of arresting Mr Dimopoulos," he said.
"The police involved reasonably believed such force was necessary to arrest a person who was struggling with police."
Mr Dimopoulos, who blasted the findings of the IBAC report, has long maintained police did not identify themselves when they entered the building while he was sleeping at 2am. He said he fled because he feared he would be the victim of a gay bashing or home invasion.
The raid sparked deep unease and anger in the LGBTQI community.
In a bid to tamp down speculation the raid was motivated by bias, Assistant Commissioner Luke Cornelius issued a public apology on behalf of the force almost immediately.
"It's very clear to us that police stuffed this one up," Mr Cornelius said at a press conference.
Victoria Police also took the highly unusual step of paying for Mr Dimopoulos' medical expenses.
The decision to apologise ahead of a formal investigation into the incident caused serious ructions between rank-and-file officers and Victoria Police command.
The rare mea culpa also came amid a string of other controversial use-of-force incidents and scandals – many involving the Critical Incident Response Unit – where police have stridently defended their conduct or refused to comment ahead of the completion of internal or independent investigations.
Victoria Police declined to comment because the matter is before the courts.
Get our Morning & Evening Edition newsletters
The most important news, analysis and insights delivered to your inbox at the start and end of each day. Sign up here.
Chris Vedelago is an investigations reporter for The Age with a special interest in crime and justice.