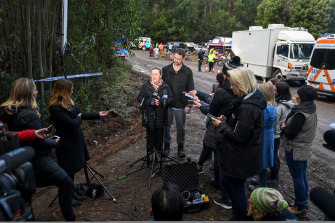 She was confident her boy was alive. She was right.
About 12.30pm, a ripple of excitement made its way through the base camp at Blair's Hut.
Police officers quietly began walking between groups of supporters, who for two days had sat anxiously next to campfires in solemn silence as they listened to the grim updates.
But this time, police came with good news.
"William has been found," acting Inspector Christine Lalor told journalists at 12.46pm, breaking into a smile. "He is conscious and breathing."
Loved ones gasped and hugged, shedding tears of relief and shaking their heads in disbelief, as wide grins erupted on the faces of volunteers and members of police and emergency services.
As the good news filtered through the camp, the mood changed within minutes.
Will's stepfather, Nathan Ezard, raced up the hill to tell Ms Callaghan that her eldest son was safe, found by a lone volunteer familiar with the area who had found the boy in bushland 20 minutes from the track.
The couple were driven to Will and finally reunited with their "beautiful, gentle" boy who had miraculously survived two nights in the unforgiving wilderness.
A quiet Will held his hands over his ears as he was carried by his stepfather into a waiting ambulance, wrapped in a white blanket and wearing a blue hooded jacket his rescuer had given him.
With tears of relief in her eyes, Ms Callaghan spoke from the door of the ambulance to thank the "amazing community" for their efforts.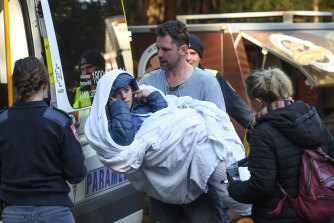 "I am really overwhelmed,"she said. "He's well and as good as he can be in the circumstances."
Behind her, a calm and silent Will played on an iPad, quietly eating a packet of white Tic Tacs, one of his favourite treats.
"I can't imagine what he's been feeling and going through," she said. "He's a very special person and all the people in his life love him to bits."
At the request of police, those gathered at the site had refrained from making loud noises so as not to scare Will as he arrived.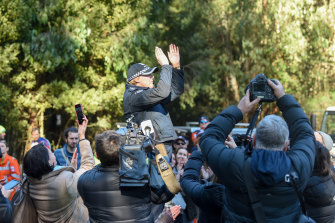 But as the ambulance drove away, spontaneous cheers erupted and relief washed through the crowd.
"We rejoice when we have the successes," said search and rescue policeman Senior Sergeant Greg Paul as the searchers began to pack up their tents and equipment.
"Often sadly it doesn't always end this way. This is one of the great ones."
Get our Morning & Evening Edition newsletters
The most important news, analysis and insights delivered to your inbox at the start and end of each day. Sign up here.
Simone is a crime reporter for The Age. Most recently she covered breaking news for The Age, and before that for The Australian in Melbourne.