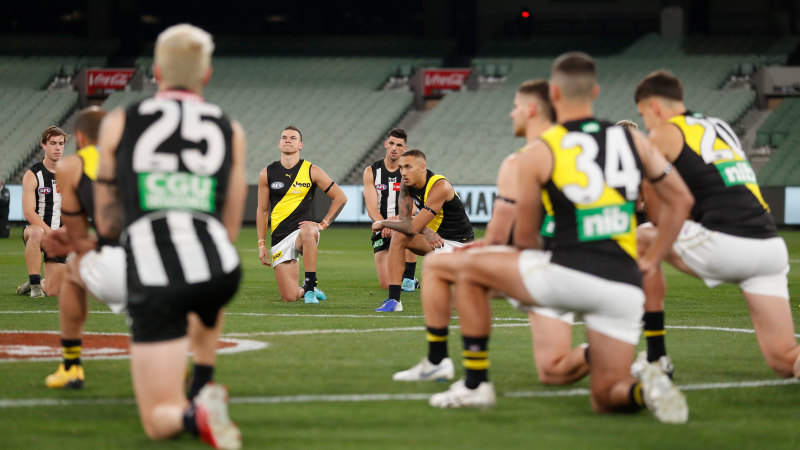 Loading
The special effects – that is, the extraordinary effects to simulate the normal effects – probably worked on television, but at the ground, they served only to highlight what was missing.
The cardboard cut-outs, you might be surprised to know, looked and sounded like cardboard cut-outs: static, placid, unmoving, gormless in a way a footy crowd never is. Put it this way: they were a hard crowd to please. As for artificial sound effects, they echoed and only managed to make the G sound even emptier. The trouble with fakery is that it is so hard to fake.
For now, they'll have to do. As any coach worth his salt would say, it's not a controllable. It's strictly a television game for now anyway, very strictly, so it's props and punts only. The Olympics have been pulling this trick for years.
For the players, old habits, like the virus itself, die very hard. Try as they might, it proved impossible not to slip in the odd low five, the periodic tousle of a mate's hair. You could hardly blame them. Somehow, they're meant to switch at will between fierce physical contact and none at all. They're meant to not to get their hands dirty.
It's incongruous, but what isn't just now?
Expect more of the same as round two unfolds: grounds that echo, gestures that resound. It is expected that there will be some sort of Black Lives Matter symbolism at every match. It is certain there will be footy.