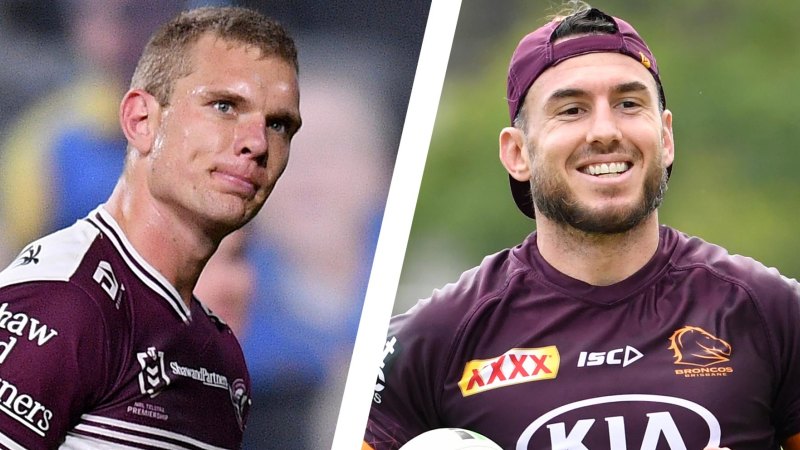 That's a very solid comeback from the Sea Eagles after they trailed 18-0 at halftime and were a whisker away from being down 24-0 with Brisbane denied a try by the video referee. They came out firing in the second half, whacked away in the trenches and began to dominate, aided by a 12-2 penalty count in their favour that made it very tough for the Broncos. Fonua-Blake immense – 236m running for him – and a good chunk of that in the second half. Experience and calm heads prevail for the Sea Eagles, with DCE very composed despite the early scoreline in Brisbane's favour.
The Broncos, well, that was a million times better than last week. Tried their hearts out, went very close and they will beat plenty of teams this season. No bad players for them but it was a wake-up call for Ben Te'o when he came on in the second half… just the one run for him in his return. David Fifita, Tevita Pangai Jnr, Alex Glenn all to return.
Goodnight folks and hope your team has a blinder this weekend.
Coates for the corner? Manly with the save. Tom Trbojevic saves the try with a good tackle in the corner, came from the clouds to produce a fairly simple tackle in the end. Did all the hard work before he got there and now Manly can see this one out.
Manly foil the raid out wide but it's knocked down and Brisbane get a fresh set right on the Manly line with less than two minutes to play. The Sea Eagles will try a captain's challenge but it's doomed surely and that was a genuine throw at the stumps. Manly lead 20-18… big finish looming.
Carrigan looks a bit stunned there and he might have been a little hard done by, to be fair. Went for the one-on-one strip on Jake Trbojevic, did just that but it came just after the held call. A lot of those are just returned for a play-the-ball but now Manly hit the front for the first time. The Sea Eagles have scored 20 unanswered points and lead 20-18.
Eleven minutes on the clock and DCE pulls the trigger. Misses but it gets the deflection and they can go again here. Looking very ominous for the Broncos now and a 10-2 penalty count for Manly not doing them any favours this deep in the contest. Still 18-18.
Coates done for the escort and Garrick will have the shot to level things up at Gosford. Some inexperience there from the 19-year-old and lots of experience from Joel Thompson who was able to win an advantage. Kick is good and we are all square at 18-18 with 15 minutes to play. Good game.
Brisbane have been far more physically committed tonight. Nice rebound set there with strong charges and good intent. Manly deal with the high kick for Coates on this occasion but that's going to be an issue all night for them if Brisbane can get into range for the cross-kick. Broncos leading 18-16 with 18 minutes on the clock.
Too much ball in great spots and they run it on the fifth. That ends with Moses Suli strolling over in the corner and Brisbane looking in all sorts here. Manly with all the running and after trailing 18-0, they now trail 18-16 and are on one hell of a roll.
Nothing fancy from them this half and they are just trying to smash their way through the middle, lots of runs off the hip of DCE and Brisbane are ringing the changes to try and get some energy and stiffen the defence. Ben Te'o about to get his shot, Addin Fonua-Blake doing lots of damage for Manly as they trail 18-10.
Hopefully Des can refrain… or the doors are better made in Gosford