Thanks for following our live coverage today and throughout the pandemic crisis. Today is our 101st coronavirus live blog and our 95th consecutive day of live coverage in a sequence that started in March.
Today will also be our last scheduled day of live coverage. We will continue our broad and up to date coverage of the crisis but no longer run a daily blog. If events escalate we will bring back a live news blog as appropriate.
We would love to hear what you've made of our live articles so please drop us a line through the form below:
Subscriptions power our newsrooms so consider signing up. Click on the links to subscribe to The Sydney Morning Herald and for The Age.
And don't forget you can also get all the day's news delivered straight to your inbox every day. All the details are just below.
Get our Morning & Evening Edition newsletters
For the last time, this is Nicole Precel, signing off. Thank you so much for reading and stay safe.
NSW Police issued a 24-year-old woman with a fine for failing to abide by the COVID-19 health order during an unauthorised Black Lives Matter protest in Sydney.
NSW Police Operation Commander Assistant Commissioner Mick Willing said it had been disappointing to see about 300 people disobey police's earlier warning about not attending the protest.
"I'm exceptionally proud of the efforts of all the officers on the ground who quickly dispersed that crowd to Central Station where they left the area."
The protest was against black deaths in custody, showing solidarity with Long Bay prisoners and has been organised by the same coalition of activists who organised last Saturday's protest.
A separate prohibited protest is scheduled for Saturday, which could open up attendees to prosecution.
The rally, organised by the Refugee Action Coalition, was taken to court by NSW Police over concerns relating to COVID-19 and public gatherings on Thursday night.
"We're quite prepared to put sufficient resources on the ground tomorrow and any other day to deal with any issues that come up," Mr Willing said.
Thank you to those following along and for commenting today. For those tuning in late, here is a recap of some of today's major stories:
Prime Minister Scott Morrison announced a change to the caps on gatherings, removing the 100-person cap on indoor gatherings and replacing it with a four-square metre rule under the national cabinet's stage three restrictions, with changes to take place through July.
Australians will be free to go to outdoor events with up to 10,000 spectators next month.
There are also plans for a pilot scheme to allow overseas students to come to Australia on flights arranged with universities and governments, but that would only happen in states with open domestic borders.
Each state and territory would decide when to move to the final stage of eased restrictions.
Victoria recorded four new cases of coronavirus, NSW recorded three, a two-year-old returned traveller tested positive in Queensland and WA recorded one new case overnight.
South Australia is set to lift border restrictions on July 20.
Two Demons players were suspended for breaking AFL's COVID-19 protocols.
A Melbourne protester, who wasn't using a COVIDSafe App, tested positive for COVID-19.
Finance minister Mathias Cormann said a second coronavirus wave could cost the economy $80 billion.
NSW confirms COVID-19 case related to Rose Bay Public School.
Cruise ships have been banned in Queensland until the pandemic is over.
Organisers of last Saturday's Black Lives Matter protest have been fined in Melbourne.
Hundreds attend unauthorised Black Lives Matter protest in Sydney, despite police warnings not to.
BA, easyJet and Ryanair launch legal action about UK quarantine policy.
China's capital is suspending plans to restart classes for the first three years of elementary school next week amid reports of new cases of community transmission in the city.
Beijing's municipal government said it wants to ensure the health and safety of students and teachers.
Local authorities on Thursday announced a 52-year-old man had become the city's first confirmed case of local transmission in weeks after he arrived alone at a clinic complaining of fever.
The official Xinhua News Agency said another two cases of COVID-19 were confirmed in Beijing on Friday.
The man whose diagnosis was announced Thursday had reportedly visited a market on June 3. The hall where he shopped has now been closed for disinfection, state media reported. It wasn't clear if there was a connection between the three new cases.
AAP
Families who have lost loved ones in the COVID-19 pandemic are demanding an independent public inquiry into the way the British government handled the crisis.
Matt Fowler, of the COVID-19 Bereaved Families for Justice UK group, told the BBC that his father's death could have been prevented "if things were handled in a different manner."
He says that his father was "only 56, so he has gone way, way before his time."
The group with some 450 members has written to Prime Minister Boris Johnson and to Health Secretary Matt Hancock demanding an inquiry.
The lawyer for the group, Elkan Abrahamson, says a limited inquiry was needed as soon as possible because the crisis is still ongoing.
He says, "in this case, if it does take a long time more lives will be lost."
AAP
This a feel-good Friday story for our last blog together. While the pandemic has hit every Australian differently, many have done what they can to help others battling through it.
Melbourne's famed Cherry Bar owner and booker James Young said he's learning that "if you really want to change the world, you've got to start changing your own world".
He offered 20-year-old rapper, Sui, from Tokyo a place to stay when he got stuck in Melbourne because of the pandemic.
"My son Archie (who speaks Japanese) made friends with Sui and is helping him with his English lyrics," Mr Young said.
He said Sui had been struggling alone in a backpackers in St Kilda, unable to return to Japan.
Mr Young, who has been running the iconic rock and roll venue for 14 years said Cherry Bar's band room is set to re-open for 28 punters on June 24, a far cry from their 260 capacity.
As a rock and roll fiend, Mr Young has never had any time for hip hop and rap, but Sui is changing that.
"It's unusual I would have an international hip hop artist living with me, I'm learning as much from him as he's learning from me," he said.
"He is an absolute pleasure to have him around. He showed me a video message from his parents in Japan who are effusively grateful that we are looking after their boy," he said.
"It's deeply satisfying in life to "pay it back"."
United Nations aid agencies voiced alarm on Friday at the deteriorating humanitarian situation in Yemen as COVID-19 spreads and a lack of funding jeopardises life-saving programmes.
"More than 30 of the 41 UN-supported programmes in Yemen will close in the coming weeks if additional funds are not secured," UN human rights spokesman Rupert Colville told a briefing in Geneva.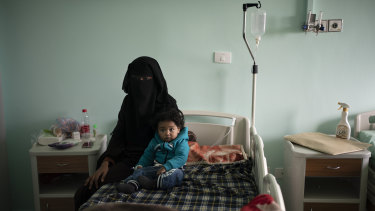 Jens Laerke, spokesman for the UN Office for the Coordination of Humanitarian Affairs, said that of the $1.35 billion pledged for Yemen in early June – $1 billion short of the target – only 47 per cent of promised funds have been received.
"Unless UNICEF receives $30 million by the end of June, water, sanitation and hygiene services will start shutting down for 4 million people in July," said UNICEF's Marixie Mercado.
Only 10 per cent of the $53 million it seeks for COVID operations has been received, reducing its ability to provide protective equipment and medical supplies, she said.
Reuters
Protesters have begun chanting "Black Lives Matter" in Hyde Park and holding up photos of Indigenous people who have died in custody.
On Thursday, NSW Police advised people not to attend due to COVID-19 restrictions and said those that did may be asked to move on and arrested if they did not comply with orders.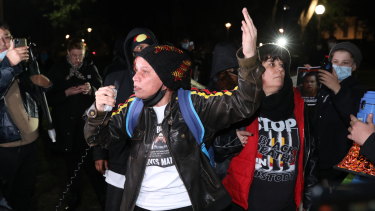 Police interrupted a speaker and told people who continued to protest that they would be arrested.
One female protester grabbed the megaphone and urged people to disperse, but the crowd was then stopped from leaving by police near St James Station.
Instead, the group headed towards the statue of James Cook, which was surrounded by mounted police.
Protesters continued walking through the park as police followed, asking them to move on.
Protesters Sana Tamoowala and Louise Dolan said the rainy weather didn't dampen their spirits.
"It's never a waste [to come out], they [the police] know people are willing to keep fighting – they're not too scared," said Ms Tamoowala.
Ms Dolan took part in last Saturday's protest and was present in Central Station when police used pepper spray to disperse a small group after the main rally had ended.
"It was disturbing to see," she said of the incident.
You can read the story here. 
Indonesia has recorded another new record high number of infections, reporting 1,111 new cases on Friday.
The new record total is the third time in a week the country has reported more than one thousand infections in a single day.
It comes as the country begins easing restrictions, despite the growing number of cases, but in line with neighbouring countries which are easing restrictions as they appear to have the spread of the virus better contained.
Professor Amin Soebandrio, the director of Jakarta's Eijkman Institute of Microbiology, warned on Thursday the country's caseload could double from about 35,000 to 65,000 infections in the next two weeks as testing rates ramped up.
The professor also suggested a rise from 2,000 to 3,000 new cases per day. The number of cases has now reached 36,406, the second-highest in south-east Asia, and the death toll rose by 48 on Friday to 2,048, the highest in the region.
The latest results reported 15,333 specimens tested from 7,476 people, an improvement on the laggard test results of the first few months of the coronavirus outbreak but well behind other countries in the region.
Indonesia is a nation of nearly 270 million people and has conducted just 1,696 tests per 1 million people, which ranks it 163rd out of 215 nations listed on the Worldometers.info website.
Health official Achmad Yurianto defended the low testing rates per million people during his daily briefing.
"Indonesia consists of islands with waters between them that act as barriers. Therefore threats in places would be different and can't be compared with countries with bigger land proportions. In numbers overall our percentage testing per million people is low. But if we look at places like Jakarta than the percentage shows we are doing higher testing," he said.
Australian shares wrapped up their worst week in seven, with the benchmark index sliding nearly 2 per cent on Friday on fears of a second wave of COVID-19 infections and a gloomy economic outlook from the US Federal Reserve.
The three major US stock indexes fell more than 5 per cent on Thursday, posting their worst day since mid-March, after a leading health expert warned the coronavirus death toll could touch 200,000 by September.
The S&P/ASX 200 index fell 1.9 per cent to 5,847.8, marking its second straight session of losses. For the week, it dropped 2.5 per cent after six straight weeks of gains.
"We are probably in what I would call a circular bear market now," said Brad Smoling, managing director at Smoling Stockbroking.
"The euphoria of all the stimulus and free money is starting to wane and investors will start to take notice of earnings and balance sheets of businesses that are going to reopen."
In a bid to revive the ailing Australian economy, the federal government is pushing state and territory leaders to reopen internal borders and drawing up plans to allow international students to return as the country's COVID-19 cases fall.
Financials fell 3.8 per cent for the week after two weeks of gains.
Westpac Banking Corp, Australia's No. 2 lender, dropped 3.3 per cent on Friday after the financial crime regulator said it may add additional breaches of anti-money laundering laws to its lawsuit against the lender.
Energy stocks slumped 4 per cent as oil prices tumbled, with sector heavyweights Woodside Petroleum and Santos losing 5.3 per cent and 3.6 per cent, respectively.
Reuters