A shell of his former self, Millennium Man sits excluded from his adoring fans behind an iron fence, robbed of the chrome-coloured globe formerly clutched between his hands.
"It's as if his hands are in the air, in anguish, as to what is my future," said Andrew Robb, a local documentarian and confessed Millennium Man devotee.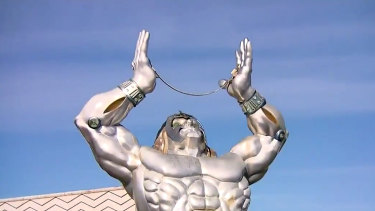 Fans are now grappling with how he should be honoured.
"The worst case is that he's scrapped and the best case is that there are plans to extend his life. It would be nice to have that in place so eventually, he can be a permanent part of sunshine," he said.
Mr Robb, who has made two short documentaries about the phenomenon, has proposed a 3D scan be made so his dimensions can be digitally captured and exist in perpetuity, and that potentially he be cast in a brand new iron form.
It's a turnaround for Vicinity Centres, which managed the site where the chrome warrior is stationed, which had originally planned to remove the figure without realising its deep importance to the Sunshine community at large.
Vicinity Centres Communications Manager Ali O'Shea said they retained "expert consultants and his original builder do a structural assessment," and after finding the statue is beyond repair, have turned to the community for suggestions to ensure Millennium Man lives on.
It's also been proposed that he be replaced with a 3D projection, a statue double the size, a Millennium Falcon or Sunshine's first Hollywood-style star.
With some ideas for reconstruction running into the several thousands of dollars, Vicinity Centres' financial commitment to protecting this legacy is still being determined.
"I don't have that detail at this time," she said.
Millennium Man was originally created by BiGfiSh designer Renata Slusarski, a Footscray-based design and fabrication firm, for a Village Cinema that was opened there in the 90s.
Expected to survive for around five years, its legacy has instead run into the decades as two sister statues, also produced by BiGfiSh, have now perished.
He was refurbished in 2016 with a view of extending his life.
"There's not one of these anywhere else now," Dinesh Jayasuriya told Nine News, "so you see Millennium Man, you're seeing Sunshine."
David Estcourt works for The Age and The Sydney Morning Herald.