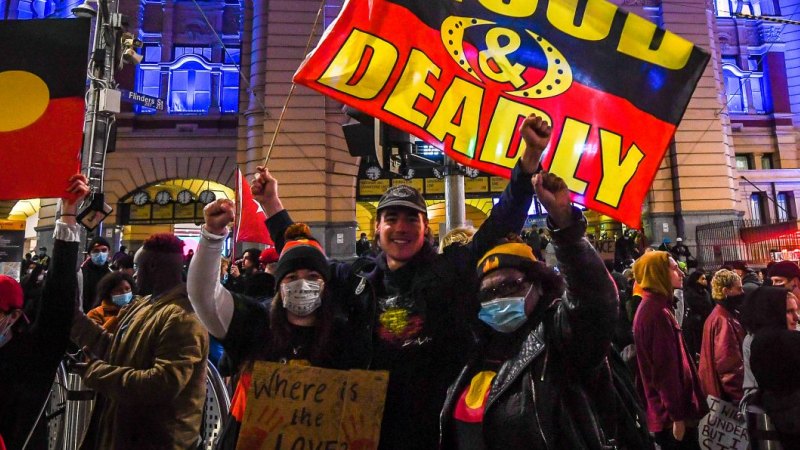 Preparations for the protests continued on Friday even as the Australian Medical Association urged the thousands who attended last week's rally to get tested for coronavirus if they experienced symptoms, after a man in his 30s who attended the event tested positive to COVID-19 on Thursday.
Victoria announced four new cases of coronavirus on Friday, including a child who attended Kangaroo Ground pre-school, in Melbourne's north-east, for one day while potentially infectious.
The preschool was shut for deep cleaning and contact tracing was underway on Friday.
The state's case tally now stands at 1703, with 49 active cases and one person in intensive care.
Police said on Friday they would not fine anyone else over the Black Lives Matter rally, which was attended by an estimated 10,000 people.
"We determined that we could not draw a distinction between one person as opposed to another and it would therefore not be fair to issue any further fines," a spokeswoman said.
Police said there would be a "visible police presence" at Saturday's rallies across Melbourne, although they had spoken with organisers and were satisfied they were not planning to breach Victoria's current gathering limit of 20.
Ms Panopoulos said Refugee Action Collective had always communicated with police and did so well before the coronavirus restrictions were put in place.
"But it's frustrating to have our efforts undermined by a strict interpretation of health regulations," she said.
The protests will be held outside the Mantra Bell City Hotel in Preston, Broadmeadows MITA detention centre and Border Force's Docklands offices, as well as other locations in the CBD.
Deputy Chief Health Officer Annaliese van Diemen said the Black Lives Matter protester diagnosed with COVID-19 did not have the COVIDSafe tracing app on his phone.
The man was wearing a mask at the protest and showed symptoms the day after the event.
Dr van Diemen said he had attended with a "small group of friends" who had been asked to self-isolate for 14 days while authorities continued to trace his close contacts.
Health Minister Jenny Mikakos dismissed calls to release the identity or a photo of the man, saying it would breach the Health Records Act and the government did not want to discourage people coming forward to get tested.
Ms Mikakos reiterated her stance that now was "not the time for political protest".
Black Lives Matter rallies are slated for Saturday in Perth and Brisbane, while there will be simultaneous refugee protests in Perth and Sydney on Saturday.
Prime Minister Scott Morrison is urging authorities to arrest and charge people who attend unapproved protests.
But the organisers of last weekend's Melbourne rally urged protesters not to be deterred.
"It hasn't changed our stance," said Tarneen Onus-Williams, from the Warriors of the Aboriginal Resistance, which coordinated the action.
"Black lives are more at risk of dying in custody during the coronavirus pandemic."
Australian Medical Association president Dr Tony Bartone, said there was a health risk despite the protester who contracted COVID-19 wearing a mask.
Masks were considered compromised after four hours of use and if they were taken off or exposed the nose, Dr Bartone said.
Get our Morning & Evening Edition newsletters
With AAP
Michael is a reporter for The Age.
Rachael Dexter is a journalist & audio video producer at The Age.
David Estcourt works for The Age and The Sydney Morning Herald.