The Covid-19 pandemic didn't stop the sales campaign of a brand new BP servo in Delacombe, on the outskirts of Ballarat.
An interstate investor beat eight other bidders, both local and international, for the BP, paying $6.7 million.
The vendor was developer Retail Fuel Developments which builds new petrol stations and convenience stores up and down the eastern seaboard. This one, at 316 Glenelg Highway, is on the western fringe of Ballarat.
The deal, negotiated by CBRE agents Justin Dowers, Rorey White, and Kevin Tong, reflected a yield of 5.01 per cent.
The servo, next door to a new McDonalds, has a 15 year lease to BP, returning $336,000 a year. Its two shops are currently raw shells.
Meanwhile, a Shell petrol station and convenience store in Seymour, developed by active servo builder Konfir Kabo, fetched $4.4 million in an off-market deal transacted by Quinn Reynolds agents Marcus Quinn and Linc Reynolds, with Ben Appel of Appel Property.
It's understood the new servo, with a 15 year lease, was sold before it was publicly listed and the deal concluded in three days on a sub-6 per cent yield. Agents declined to comment.
Crafty Kaiju
Craft brewer Kaiju! Beer is taking the leap into hospitality, leasing space in Huntingdale that was occupied for more than 10 years by a motor mechanic.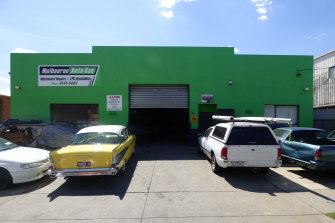 The seven-year old brewer has taken out a seven year lease on the 500 sq m space at 27 Hume Street, paying $45,000 a year.
The leasing deal was struck by Knight Frank agent Stuart Gill.
Kaiju! Beer, founded by brothers Nat and Callum Reeves, is planning to convert the site into brewpub opening at the end of the year.
They're following the lead of several other craft brewers and wineries opening in industrial space. Jamsheed Urban Wineries opened late last year in a warehouse at 4 Albert Street, Preston down the road from Moon Dog World on Chifley Drive.
Sunny sands
A private investor has snapped up the Sunny Sand Residential Village in Inverloch, paying up to $3 million for the 20,000 sq m site.
The 55-unit site at 32 Ullathornes Road is known as a "manufactured housing estate" and is occupied by pre-fab relocatable villas – a glorified caravan park.
CBRE agent Marcello Caspani-Muto, who sold the site with Josh Twelftree, Jimmy Tat and Sandro Peluso, said the price equated to a yield of 5.5 per cent, far sharper than usual for assets of this kind.
"Three years ago, yields were around 10 per cent and they're now around 6.5-7 per cent so this is a pretty remarkable result," Mr Caspani-Muto said.
Nine offers were made for the property, from large listed operators to privates and syndicates, he said.
Vendor John Disipio had owned and operated the facility since 2005.
Correction: In last week's Capital Gain Michael Sholakis' Hillsyde Group was erroneously named as the buyer of 2-4 Vale Street, St Kilda. The buyer was Hillsyde Nominees, owned by Mario Charisiou.
Nicole Lindsay is a property reporter at The Age.