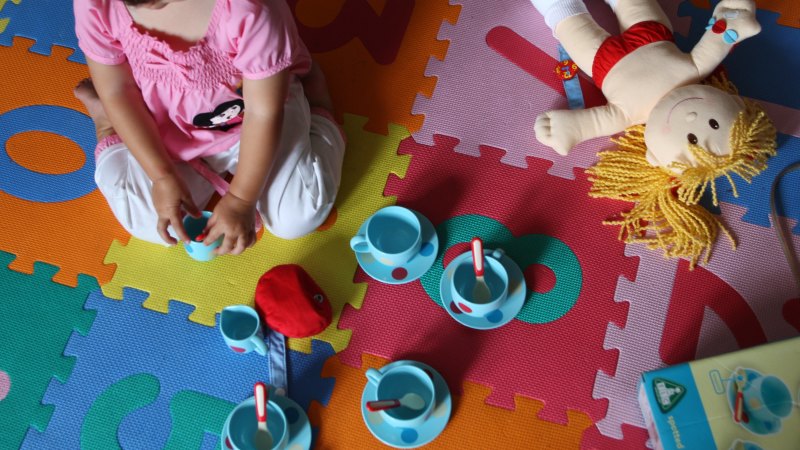 Mr Weston warned "rushing back" to the old funding model, which combines government subsidies and fees from families, would undermine the Closing the Gap strategy by reducing children's access to early education, a foundation for future success.
Loading
SNAICC has reported increased attendance at services across the country, from Thursday Island in the Torres Strait to Victoria's Shepparton and regional South Australia.
According to data from Goodstart Early Learning, the country's largest childcare provider, 22 per cent of children at risk of abuse and neglect increased attendance days in recent months. Indigenous children increased their days in line with the spike among non-Indigenous children.
Under the shift back to the subsidy model, fees will be capped at pre-pandemic levels and the work activity test will be eased until October to provide 100 hours of subsidised care a fortnight for families that have lost work.
Families on low incomes are entitled to a subsidy of up to 85 per cent of fees, and families with vulnerable or disadvantaged children are eligible for additional subsidies covering costs for up to 100 hours a fortnight.
But advocates warn that people who were not in work prior to the pandemic will not be eligible for the concession and are concerned access to additional childcare subsidies for at-risk children is hindered by an "onerous" application process.
Early Childhood Australia chief executive Sam Page said families had to provide significant evidence a child was at risk to access to the additional subsidy to cover the costs of care.
"Having childcare free and not having to apply for that additional subsidy made it much easier for vulnerable children to access services," she said.
SNAICC wants the activity test abolished for vulnerable families and a minimum of 30 hours a week of free or 95 per cent subsidised care for Indigenous children included in the Closing the Gap framework.
The government has put $209 million into a childcare program for remote communities, aiming to boost participation of Indigenous children. Another $41 million has gone into supporting Indigenous children to meet early learning and development goals ahead of school.
Goodstart advocacy manager John Cherry said Centrelink needed to be ready to deal with an influx of applications for extra subsidies and the process needed to be fixed so "families in vulnerable circumstance aren't tied up in administrative knots".
While there are concerns about childcare access dropping with the shift back to the old model, many services have welcomed the change after suffering financially under the bare-bones relief package, which placed severe limits on capacity.
Australian Childcare Alliance president Paul Mondo said the increasing demand for places as people went back to work and school meant the relief package was "no longer working for services and families".
Fergus Hunter is an education and communications reporter for The Sydney Morning Herald and The Age.