The truth they sought to make the basis of their lives was what Gandhi called satyagraha ("truth force" or "soul force"), a spiritual force which saw one's enemies not as opponents to be defeated, but as fellow human beings, who, while being misguided and ignorant, and often hateful and violent, also shared a common humanity and are also made in the image and likeness of the God who is love, and are capable of being moved by the suffering of those they opposed.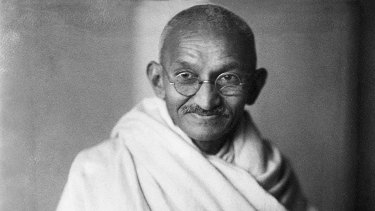 Gandhi was powerfully influenced by Jesus' Sermon on the Mount, particularly the exhortation beginning, "Love your enemies, do good to those who hate you, bless those who curse you, pray for those who mistreat you" (Luke 6:27-28). This helped to form the basis of his non-violent resistance to oppression, prejudice and discrimination.
According to US writer and peace activist James W. Douglass, "Gandhi followed Christ in identifying genuine faith and discipleship with the taking up of one's personal cross. In a talk given to a group of Christians on Christmas Day, he said: "We dare not think of birth without death on the Cross. Living Christ means a living Cross; without it life is a living death."
Douglass goes on to explain:
"The logic of non-violence is the logic of crucifixion and leads the person of non-violence into the heart of the suffering Christ. The purpose of non-violence is to move the oppressors to perceive those whom they are oppressing as human beings. Humans commit acts of violence and injustice against other human beings only to the extent that they do not regard them as fully human. Non-violent resistance seeks to persuade the aggressors to recognise in their victims the humanity they have in common; when that is fully recognised violence is impossible."
Roland Ashby is a Melbourne writer and Christian meditator.