Health authorities say they have already contacted users of the clinics where the infected GP worked recently and are testing any known contacts but believe the risk of transmission is low because the doctor has never developed symptoms.
The GP worked at Lilydale Medical Centre on June 11 and Cedars Medical Clinic in Coburg and Croydon Family Practice on June 9 and all three sites are being 'appropriately cleaned', Chief Health Officer Brett Sutton said on Saturday.
Meanwhile, about 200 activists gathered at eight sites across Melbourne on Saturday to protest against Australia's treatment of refugees and asylum seekers with the events passing without incident and no fines issued by police for breaches of social distancing laws.
The state government says it will start its suburban and regional testing blitz in the Dandenong and Brimbank areas of Melbourne as well as Kyabram in the state's north and Mildura in the far north- west.
The program will then be expanded to the Moreland, Melton, Colac-Otway, Whittlesea, Surf Coast, Hume and Wyndham council areas.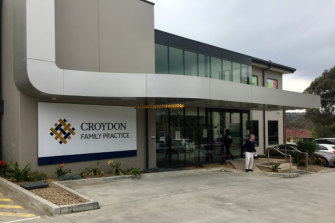 The department says it is trying to target areas with high case numbers, high-risk workforces, including people working in health and aged care or the meat industry, and areas with high numbers of residents from migrant backgrounds.
Loading
The department says the family outbreak at Keilor in Melbourne's north-west gave its experts a good idea of the neighbourhood profile they should be targeting as the statewide testing effort, which has already taken 582,000 swabs, moves into its next phase.
The new targeted approach will see neighbourhoods blitzed with promotional material, including non-English language messages, urging people to get tested and local health and community services will also be drafted to help spread the word.
There will be new testing locations and mobile units deployed to the targeted areas, to help cope with what is hoped to be increased demand, in addition to the 127 diagnostic sites already operating around the state.
Health Minister Jenny Mikakos said on Saturday that Victoria already had one of the highest per capita testing rates in the world.
"But as we gradually ease restrictions, we won't take any chances," the minister said.
"Our massive testing blitz saw Victorians come out in huge numbers to get tested.
"Now, we're strategically targeting specific communities to make sure we get the full picture."
Noel Towell is State Political Editor for The Age