She said the figure is likely to be more than $1 million, with police also handing out $5000 fines for spitting and coughing on workers.
Ms Lee argues that under the Criminal Procedure Act, anyone under the age of 18 years is exempt from penalty notices. But with COVID-19 offences falling under different legislation, children as young as 10 can be hit with an infringement notice.
"The fines are among the largest on-the-spot fines police can issue and the largest on-the-spot police fine that can be issued to a child aged 10 to 18," she said.
The figures handed over by NSW Police do not include fines given out after May 2. While there were fewer fines given out in May due to easing of restrictions, multiple $1000 fines were still issued by officers.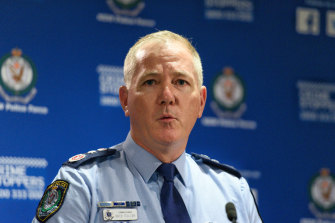 NSW Police say commissioner Mick Fuller has reviewed all the fines issued across the pandemic and has since withdrawn 60 infringements notices.
"These fines are a significant monetary penalty and have been issued during a time when many people are facing dire financial circumstances," Ms Lee said.
"The cost of these fines are at least three times the base weekly amount a person on JobSeeker payment (equivalent to the maximum payment for a single person previously on Newstart) receives and double the amount of many speeding fines."
Loading
NSW Police are yet to release the guidelines officers were given to decide when a fine was appropriate, which are set to be presented in Parliament on June 19.
Sarah is a journalist for The Sydney Morning Herald.