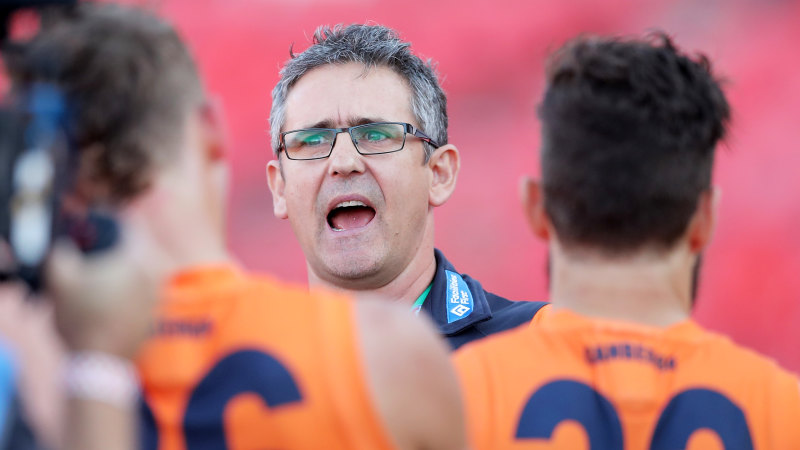 "We need to resurrect some things pretty quickly and we will do that," Cameron said post game.
"We have to take that approach, like in the finals series last year, into Friday night. It's so even and if you don't bring that level of effort of contested ball, two-way running or whatever then you will be found wanting.
"Clearly we were found wanting today.
"When you look at your indicator board and it's completely red then there is not a lot of positives but Harry Himmelberg showed some signs after half time.
"Brent Daniels and Jye Caldwell, had some moments after half time but it was few and far between."
Loading
There remains concerns the Giants game-style may not suit the shorter quarters and their lack of efficiency and discipline stood out at times against a committed North Melbourne team but Cameron said the concepts of the game remained the same.
"You still have to find the ball, which they did more than us, and you still have to put it through the big sticks, which they did more than us," Cameron said.
"I know there has been a fair bit of commentary about it but the hungry sides are winning and the Kangaroos were hungrier than us today."
The Bulldogs will also be coming off a five-day break with their game against St Kilda the late game on Sunday night and Cameron knows his side has a chance to bounce back after a thorough review.
"I'd hope to think it's just a mindset thing," Cameron said.
"Everyone is judging how you have come off the lay-off but everyone is in the same boat.
"You can't use that as an excuse. Our effort. You always judge effort and our effort was below the Kangaroos and that's the disappointing part.
"It's what we have to get to the bottom of.
"We need to lick our wounds and get ready for Friday night's contest."
Roy Ward is a Sports writer for The Age.