Prime Minister Scott Morrison has said the decision on whether supporters are allowed back to watch sport will be left to states. The Queensland government may see value in opening up Suncorp Stadium to thousands of fans for the opening match of Rugby Australia's revised competition. Not only would it boost the QRU's bottom line after a tough year, but a crowd could also stimulate local businesses nearby, notably on Caxton Street.
Suncorp Stadium, which has a capacity of 52,500, may only be able to host around 10,000 spectators but even so, seeing fans back through the turnstiles would be a huge boost to the Reds.
Horan, who carved out a stellar career with Queensland and Australia, believes bringing back crowds is not only of significant value commercially but also on the scoreboard.
"You never need extra motivation when you play against the Waratahs but certainly a crowd supporting the Reds is a six- to eight-point difference," Horan said.
After the scenes witnessed across the Tasman at the weekend for the opening fixtures of New Zealand's Super Rugby Aotearoa, which were played in packed stadiums – with 43,000 cramming into Eden Park to watch the Blues beat the Hurricanes – Australian rugby administrators will be crossing their fingers that crowds can be allowed at Suncorp.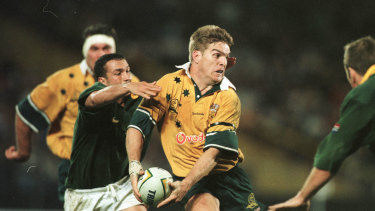 Horan said next month's competition opener was Australian rugby's chance to beam itself across the world with very little other sport on at the moment.
"It's an international opportunity to showcase not only rugby but the type of game we're playing in Australia," Horan said. "There's a lot of places, like America and Canada, that aren't playing sports and don't have crowds.
Loading
"New Zealand have a lot of eyeballs on their matches and they were great matches. It's putting New Zealand on the map. Hopefully it can happen in Australia."
The Waratahs are yet to announce where they will host their four home matches this season but are in discussions with the Sydney Cricket Ground and Bankwest Stadium.
Queensland's borders may not be opened by the time the Reds face on NSW but the Waratahs have been granted an exemption to travel to Queensland.
Tom Decent is a journalist with The Sydney Morning Herald