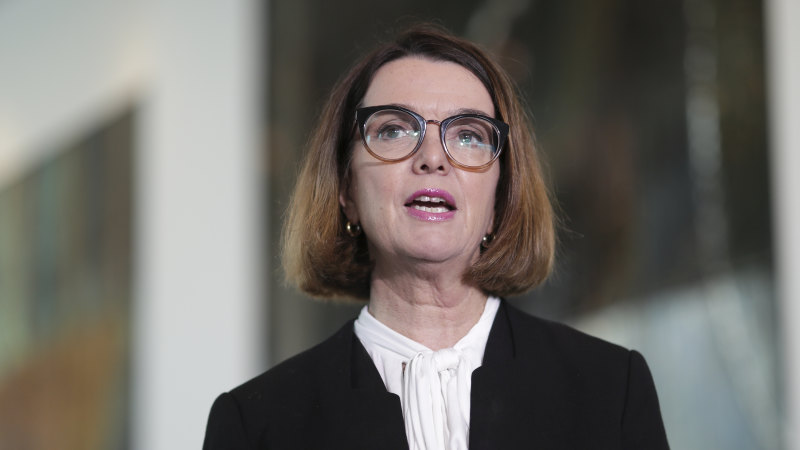 Netball Australia has become the largest national sporting organisation to sign a declaration of intent to join the national redress scheme, which enables survivors to receive compensation without having to go through a lawsuit.
The Australian Olympic Committee has begun the process of joining the scheme, submitting the required financial documents in the past week, a move hoped to be followed by its 45 member sports – including Swimming Australia – signing up.
An AOC spokesman said the sports the organisation represented were committed to helping "those who have suffered child sexual abuse" and that efforts were being made to "develop a viable mechanism for Olympic sports to join".
The AOC has previously flagged concerns that smaller sporting bodies may put their future solvency at risk by joining the scheme.
Netball Australia chair Paolina Hunt said the organisation had made the commitment to acknowledge "the catastrophic impact abuse has on the lives of those abused, and their families and friends."
Deputy chief executive Nadine Cohen said Netball Australia was ready to "work closely with the scheme to support any survivors that come forward" and would invest the necessary resources to ensure that it could participate effectively.
Loading
Senator Ruston, who has given all Australian institutions with a history of working with children until June 30 to commit to the scheme, said those who failed to "fulfil their moral obligation to join the scheme" would face financial sanctions and be publicly named on July 1.
"As the deadline looms, the time for institutions to act is now," she said, urging all sporting organisations to "follow Netball Australia's lead in providing a formal commitment."
Organisations have until December 31 to complete the process of joining the scheme.
The Royal Commission estimated 60,000 people experienced institutional child sexual abuse in Australia.
Figures show 7133 people had applied for redress through the scheme on June 12 and 2501 applications had been approved, resulting in payments of more than $200 million.
The Australian Sports Commission, comprising Sport Australia and the Australian Institute of Sport, has signed up to the scheme and is "working to ensure that athletes, staff and others in our care have appropriate protection and support", a spokeswoman said.
Dana is health and industrial relations reporter for The Sydney Morning Herald and The Age.